Alt superstar Joanna Angel presents the ultimate comic book, cosplay fantasies in Burning Angel's Comic Book Freaks And Cosplay Geeks, now available on DVD. Directed by studio owner Joanna Angel, the movie is an outrageous collection of fan-boy wet dreams, offering Draven Star, London Lanchester, Annie Cruz, Larkin Love, Sheridan Love and Rizzo Ford as sexy cosplay characters: Tank Girl, Elvira, Sakura Haruno, Tifa Lockhart and the Neko Girls.
For box art and more information about Comic Book Freaks And Cosplay Geeks, visit the website of distributor Mile High Media: http://www.milehighonline.com/product/movie/3062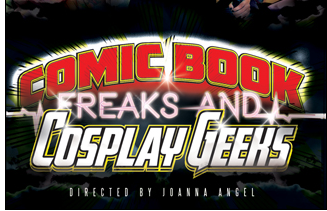 Joanna Angel is thrilled with the new release saying, "This movie is really unique- and each scene truly feels like a movie of its own. We covered many different aspects and styles of cosplay- everything from Anime, to Tank girl and Elvira. The cast all stepped into their different character roles and had so much fun with it, you will clearly see that energy in every sex scene."
Comic Book Freaks and Cosplay Geeks delves into alt fantasies showcasing the debaucherous side of cosplay. Rizzo Ford is Tank Girl, taking a pounding from Wolf Hudson. Draven Star as Death of The Endless overpowers Lucifer MorningStar (Tommy Pistol). Larkin Love is Elvira Mistress of Dark and now queen of seduction. Annie Cruz and London Lanchester make the perfect comic book-cosplay mash up, as Sakura Haruno from Naruto fucking Tifa Lockhart from Final Fantasy. It's double the love for Sheridan Love and Larkin Love as a couple hot and horny Neko Girls.
Burning Angel titles available through the studio's distribution deal with Mile High Media also include the porn mockumentary "Band Sluts," named the year's Best Comedy at the 2014 AVN Awards, "Big Black Dicks & Tattooed Chicks," "Pale Girls," "Vampire Cheerleaders," "Shark Bait," "Tattooed Strippers, "Killer Kleavage From Outer Space" and more.
People have different sexual fantasies and preferences, so Mile High Media is committed to establishing studios catering to the various consumer needs.  Sweetheart Video produces lesbian movies with more realistic sex.  Sweet Sinner provides a new kind of erotica for couples, offering real lovemaking and real orgasms. Reality Junkies specializes in producing reality-based vignettes using the sexiest porn stars.  Doghouse Digital, Mile High Media's first studio, releases gonzo DVDs with the following niches: interracial, gay, POV, foot fetish, ass fetish and more.
Burning Angel's movies give Mile High Media consumers access to the sexiest alternative-style girls, tattooed and pierced for their enjoyment.  It is the original home of the best hardcore punk, alt, and emo porn on the market.
For production stills and content log on to Mile High Media's Press Access site: http://milehighonline.com/press/.  Media seeking to be qualified may email Dusty@DustyInk.com.
About Mile High Media:
Mile High Media has been a pillar of the adult industry for over 20 years.  The Canadian managed company began as a Canadian licensee for American adult movies, ensuring it distributed only the highest quality content.  Understanding the diverse and ever changing needs of its consumer base, Mile High determined the best way to provide a wide array of superior entertainment was to produce its own.  In 2003, Mile High launched Doghouse Digital, the first of its acclaimed lines catering to specific niches.  Growing market trends and demand led Mile High to create Sweetheart Video (lesbian line), Sweet Sinner (couple line), Reality Junkies (reality gonzo line), Hardcore Parody (parody line), and Icon Male (Gay romance line).  With over 2000 titles, Mile High's studios yield some of the most viewed adult movies in the world, available on all platforms, including broadcast, IPTV, VOD and mobile applications.  Mile High is committed to evolve alongside consumers tastes, reflecting new developments in technology and entertainment.  This philosophy led AEBN.net to name Mile High the 2012 Studio of the Year.  For more information, visit www.MileHighOnline.com, www.Facebook.com/MileHighMedia, or www.Twitter.com/MileHighMovies.
About Burning Angel:
Pushing the envelope, the BurningAngel Empire is a refreshingly unique web cocktail of sex, rock n' roll and pop culture. BurningAngel.com launched in 2002 with a few sets of photos and a band interview, conceived by two amateur college kids from Rutgers, Joanna Angel and Mitch Fontaine. Since its launch, it has exploded into a fierce indie company that has pioneered a new species of erotica known as "alt porn," with a network of websites and hundreds of DVDs to its credit.
The company is revered for popularizing alternative style girls, and prides itself on delivering hardcore adult content alongside band interviews, record reviews and a community with its own social networking. As both the star of many of BurningAngel's movies and the company's spokesperson and owner, Joanna Angel has stormed both mainstream and adult media. She's appeared on the cover of every major adult magazine (AVN, Club, Hustler, Picture Magazine, Adam Film World and Xtreme, to name a few) and has been featured in many tattoo magazines as well (some include Prick, Taboo, Inked and Savage). She has been featured on Fox News, Playboy TV, Fuse TV, G4 TV, KROQ Radio, as a regular on the Jason Ellis show on SIRIUS Radio, as a guest on the 2008 series premiere of TLC's LA Ink, and in a speaking role on Adult Swim's "Children's Hospital." She has also appeared in The New York Times, Newsweek, The Village Voice, The New York Press, Esquire UK, Details and Penthouse, among others. Heeb Magazine featured Joanna as its cover girl, naming her one of the Top 100 Up-and-Coming Jews in 2005, and The New York Post featured her as one of the Top 25 Sexiest New Yorkers in 2006.
She's also made her mark in the sex toy world, becoming a venerated Fleshlight Girl in 2013. The same year, she made further strides into the mainstream world with a speaking role in the indie drama Scrapper. BurningAngel has brought home several awards from all the major adult shows—from AVN to XBIZ, to XRCO to YNOT. Some of its accolades include Best Porn Star Website, Best Web Premiere and Best Sex Comedy. From a college dorm room to national television, BurningAngel has made a mark in entertainment, and it's only just beginning. For more information, visit www.BurningAngel.com or www.Twitter.com/BurningAngel.