Following an industry-wide casting call that saw 79 performers lined up outside the Wicked Pictures headquarters last week, "it" girl Carter Cruise and rising starlet Kleio Valentien scored prominent roles in Batman v Superman XXX: An Axel Braun Parody the much-awaited return to superhero parodies from four-time consecutive AVN Director of the Year Axel Braun.  Valentien will play the Joker's de-facto girlfriend Harley Quinn, while Cruise will slip into the red and blue Supergirl costume.
"I had the honor of working for Axel earlier this year, and it was amazing!" said AVN Best New Starlet nominee Cruise, who played one of the wicked stepsisters in the multi-nominnated Cinderella XXX: An Axel Braun Parody. "I had never seen so many people show up at a porn audition, so when he chose me to play Supergirl I was so excited! The production is going to be absolutely incredible,  the costumes alone are insane! And my character has a really cool twist that comic book fans will surely appreciate. Definitely an awesome way to wrap a fantastic year!"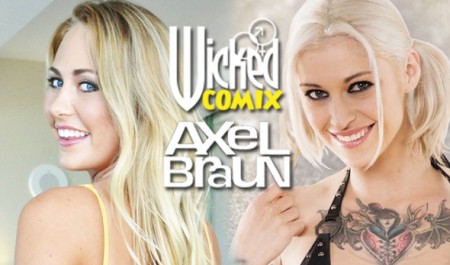 Valentien, who worked for Braun earlier this year in his Captain America parody and earned an AVN Best Three-Way Sex Scene nomination for her role, echoes her co-star's enthusiasm: "Having this opportunity to work for Axel again is going to be the highlight of my year! I auditioned along a huge group of very talented girls, and I know the part of Harley Quinn was one of the most coveted, so when I got the call from my agent that Axel had picked me I literally started jumping around the house! This is gonna be so awesome, I can't wait to show people my range as an actress and performer, and this is the perfect project to do so."
For his part, Braun, who is once again nominated for AVN Director of the Year, couldn't be happier about his choices: "There's a reason Carter has become a bona-fide star in less than a year, this girl has charisma, serious acting chops, and she's a tremendous performer. Kleio is somebody who I wouldn't have sought for this specific role, but her agent, who just happens to be my friend and fellow Wicked director Jonathan Morgan, shot a very high-quality video of her reading, and sent it to me. I was really impressed, and I asked her to come to the audition, where she was absolutely amazing. I have to really thank Jonathan and give praise to his new talent agency Nexxxt Level, for having the foreseight to spot a role in which one of his girls could excel, and the determination to go after it. It's refreshing to see an Industry agent do what mainstream agents do."
Batman v Superman XXX: An Axel Braun Parody will hit stores nationwide on March 25, 2015.

For more information, please visit www.wicked.com.