The Israeli Foreign Affairs Ministry has released a cartoon that depicts gay people in Gaza being murdered by Hamas.
The cartoon, titled "Open your eyes about Gaza", mocks foreign journalists who report on the Israel-Palestine conflict.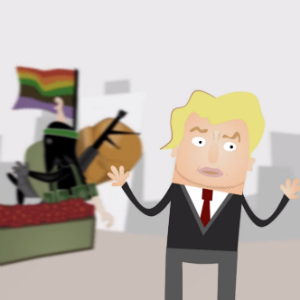 In it, a cartoon journalist reports, as terrorists fire rockets: "We are here in the center of Gaza, and as you can see, people here are trying to live quiet lives. There are no terrorists here, just ordinary people."
As a man standing in front of a pride flag is wrenched away screaming by Hamas, the reporter says: "There is no doubt that the Palestinian society here is liberal and pluralistic, and that Hamas allows everyone to live in dignity."
A rifle is heard firing in the background as the gay man's screams continue, and then suddenly stop.