OTTAWA – The Canadian Bar Association (CBA) cautions that Bill C-36, Protection of Communities and Exploited Persons Act, introduced by the federal government in response to the Supreme Court of Canada decision in Canada (Attorney General) v. Bedford, may fall short on constitutional grounds.
"Bill C-36 introduces a number of measures which on their face appear to comply with the central aspects of the Bedford decision," says Ian Carter, Executive member of the CBA's National Criminal Justice Section. "However, the practical application of some of these provisions undermines the spirit of the Bedford decision."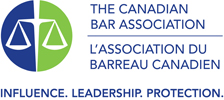 The CBA submission to the Senate Standing Committee on Legal and Constitutional Affairs focuses on the constitutionality of new provisions, introduced to replace portions that the Supreme Court had declared unconstitutional in the Bedford decision. The particular sections scrutinized by the CBA include keeping a common bawdy-house, communication for the purpose of engaging in prostitution, and living off the avails of prostitution.
The federal legislation was introduced in June to comply with the one-year time limit called for by the Supreme Court.
In its submission, the CBA notes that a key consideration for the Supreme Court of Canada was whether the legislation makes working conditions for prostitutes more dangerous, and so violates section 7 of the Charter. Prostitutes are still engaged in a legal activity – selling sex for money – and section 7 guarantees life and liberty of the individual for all.
The CBA also says that limits on communication may contravene freedom of expression guarantees in the Charter. "We believe the Bill potentially imperils prostitutes going forward by restricting their ability to protect themselves in their inherently risky, but legal activities," notes Ian Carter.
Ian Carter will present the CBA submission (.pdf) to the Senate Standing Committee on Legal and Constitutional Affairs on Thursday, October 30, 2014 at 10:30 am in Room 257, East Block.
The Canadian Bar Association is dedicated to supporting the rule of law, improvements in the law, and the administration of justice. Some 37,000 lawyers, law teachers, and law students from across Canada are members.