Tampa – At BrattyFootGirls.com, there's no such thing as too many updates. That's why they continue to keep fans satisfied with their exciting foot fetish clips. This week, BFG has fun new updates that include a variety of fetishes, such as shrinking/stomping, foot measuring, and financial domination. Starring in these featured clips are Amethyst Mars, Vanessa Rain, Jessica Jones, and Charlotte Sartre.
Amethyst kicks off the action in "The Witches Evil Shrink Trick,", a virtual reality shrinking clip. You're at the mercy of the witchy Amethyst after she casts a spell to shrink you. She definitely has a plan for you, and it won't end well. First, she hovers her large, black boots over your tiny body, threatening to crush you. Your fear only fuels her, as she removes her boots and steps on you, just enough for you to feel it. Amethyst has had enough of you, and she takes that final stomp to crush you into oblivion.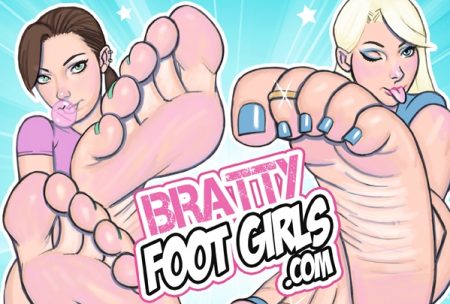 Next, BFG has Vanessa and Jessica over for a fun contest in "Whose Feet Are Biggest!". These two Amazons are some of the tallest models to ever grace BFG. So, it's decided to finally decide who has the biggest feet. First, they hold their feet up side by side, for a visual comparison. And, so there's not cheating, a ruler will make the final determination. But, there's no true loser in this competition, as the winner gets her feet licked and tickled by the loser.
Finally, popular starlet Charlotte Sartre returns to BFG for "These Feet Will Cost You." Charlotte wants money, and she knows Jason just got paid. So, she asks him to give her some cash for shopping. Charlotte knows that once she shows him her pretty feet, he'll do as she pleases. So, Charlotte starts by putting one foot in his face, and one on his crotch. As he kisses her soles, she continues to rub his crotch until he hands her some $20s. But, Charlotte knows he has more to give, and continues giving him a footjob until he hands her his entire wallet.
For even more femdom content, check out BrattyFootGirls.com's sister sites, BrattyBeatdowns.com and VersusFetish.com. Their customs site, BrattyCustoms.com, offers custom videos with their roster of ever changing brats. From foot fetish to femdom, there's no doubt as to why Bratty Foot Girls is known as the top name in Foot Fetish Femdom!
To get the latest news, follow Bratty Foot Girls on Twitter.
PR for Bratty Foot Girls is provided exclusively by XXX STAR PR. Follow us on Twitter, @XXXStarPR and check out our website, xxxstarpr.com. For interviews or media inquiries, contact xxxstarpr@gmail.com.