Los Angeles – Cherie DeVille, award-winning superstar, once again gets to show her depth as a performer with "A Delicate Vice," the first episode at Girlcore.com. Brought to fans by Girlsway creator Bree Mills, Girlcore pays homage to the films of the 1980's. Cherie's popularity over at Girlsway makes her a perfect choice to kick off this new and exciting concept.
Cherie was honored to be one of the first choices for Girlcore. She commented, "When Bree approached me with this exciting new opportunity, I jumped at the chance to help her vision come to life. This was unlike any scene I've filmed before. Everything about this scene came together perfectly – from the storyline, to the sets and camera work to create a vintage feel. It was the most beautiful film I've had the privilege of performing in and one of the most emotionally intense scenes of my career."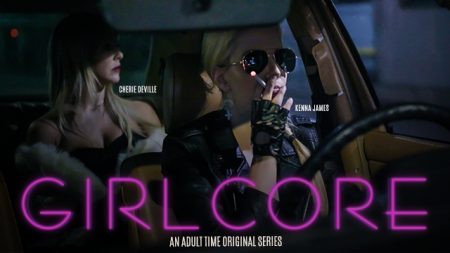 Bree Mills is equally excited for "A Delicate Vice." She reflected, "Of all the content I've shot, there has never been a production that has affected me quite as deeply as a Delicate Vice," says Bree Mills, Girlcore's writer and director. "It is a deeply personal story, one that many people can relate to.  As one viewer aptly put it, it's a meditation on obsession, on unequal relationships between flawed partners, and the passion you feel for someone even when you know you're in a destructive cycle.  Before we shot the main sex scene, Cherie, Kenna and myself had a long discussion about our own experiences with these subjects.  We've all been there … and I think you can see that authenticity and raw emotion in their performances.  Both actresses are absolutely memorizing and I walked away from those two long days of shooting knowing we had created something beyond my wildest expectations as an adult filmmaker."
Cherie is represented by OC Modeling. Directors and producers can contact OCM via their website for bookings, including GG work. DeVille is represented by A-List Features for all dance and hosting engagements and can be booked by contacting Dave at dave@alistfeatures.com.
Follow Cherie on Twitter and Instagram, and check out her new free Snapchat, user name cheriemilf. Spoil her with a gift from her wish list or join her new Fancentro.com/cheriedeville. Fans can also find Cherie at her official website CherieDeVille.com.
PR for Cherie DeVille is provided exclusively by XXX STAR PR. Follow us on Twitter, @XXXStarPR and check out our website, xxxstarpr.com. For interviews or media inquiries, contact xxxstarpr@gmail.com.