Prior to Chile's win over Australia in their first World Cup fixture, porn star Marlen Doll promised to undertake a 8 hour sex marathon with a selection of strangers if the Chilean team score at least three goals and win the match.
Porque yo soy la cabala de Chile encomiendense a santa Marlen doll #laroja#Vamoschile por las 8 hr sexo!!  pic.twitter.com/5941JxSc9V
— Marlen Doll (@marienchilena) June 13, 2014
[Translation: "I promise if Chile wins, I will have sex for eight hours with different men from twitter"]
Chile ended up beating Australia with a score of 3-1. 
Doll made good on her pledge, and called in people to come and "celebrate" Chile's victory with her in a night-long party.
The event proved such a roaring success that the eight hour marathon was reportedly extended to a full 12 hours.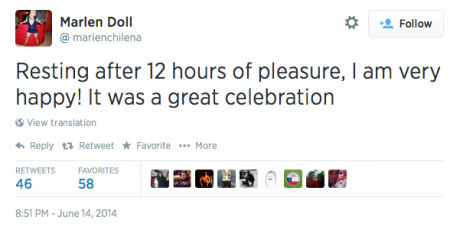 Doll (whose Twitter account is presently suspended) has now promised a 16-hour marathon with anyone who wishes to join the fun, if Chile is victorious over Spain tonight. 
It would appear that South Americans take their soccer very very seriously….