(HOLLYWOOD, CA) Adult entertainment superstar Cindy Starfall unveils a new magic mug that reveals sexy images of the star when filled with a hot liquid. At first the mug may look unsuspecting, but when filled with a nice warm drink, the mug's outer layer changes to a wrap around graphic that features an image of the brunette beauty. The magic mug comes in either blue or black with the choice of Cindy that strips down to lingerie or all the way nude for the more daring fan.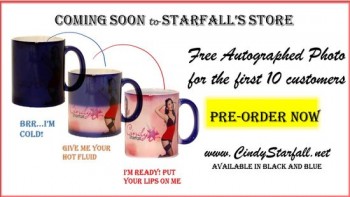 "I wanted a product that was fun and sexy, like me!" Cindy said of the magic mug. "I'll be there, naked or in lingerie, every morning to help fans get their day started. All it takes is some warm, wet fluid to see me stripped down."
For the first 10 fans that pre-order, the Cindy Starfall magic mug will come signed by the sexy star. The Cindy Starfall magic mug can be ordered directly via her official website here: http://cindystarfall.net.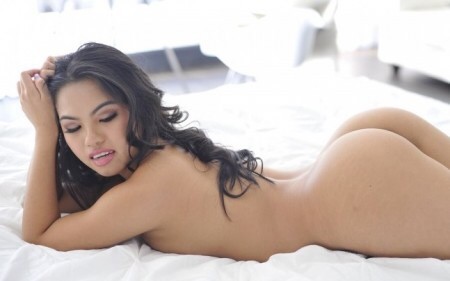 While shopping on her website, fans have the opportunity to order a plethora of other Cindy collectibles. Aside from signed sexy 8×10 photos and her latest XXX DVDs, Cindy offers unique items like a body pillow that is emblazed with a scorching hot image of the naughty hottie. Those that want to show their love for the Starfall star can do so by wearing her official T-shirt, which features an image of Cindy scantily clad in lingerie. The adventurous fan can order a larger than life 6 foot banner of Cindy or even schedule a personal Skype session. Every thing a true Cindy Starfall fan could want can be found in her store.
Start your day by seeing Cindy naked in your hands! With her new magic mug, you can have your own personal pornstar with you anytime you want.
For more information on Cindy Starfall, please visit the Cindy Starfall network:
http://www.CindyStarfall.net
http://www.CindyStarfallXXX.com
http://www.Twitter.com/CindyStarfall
http://www.Facebook.com/RealCindyStarfall
For more pictures of Cindy Starfall, please click here:
http://www.starfactorypr.com/cindy_starfall.zip
Cindy Starfall is represented by OC Modeling
http://bit.ly/CindyStarfallOCModels
anthony@ocmodeling.com
(818) 626-9550
or
sandra@ocmodeling.com
(818) 298-6939
To interview
Cindy Starfall
for your website and/or publication;
Please contact Star Factory PR:
(818) 732-0191
Info@StarFactoryPR.com