Each year before the AVN Awards Show, taking place this year on January 24, AVN Media Network elects a select group of individuals who have made their mark in the adult industry and inducts them into the AVN Hall of Fame. Many are performers and directors-these creators of adult entertainment go into the original video-based Hall of Fame. And there are several other branches in the AVN Hall of Fame: a Founders Branch, for those who created companies back in the day; an Internet Founders Branch, for those who built the online sector; a Pleasure Products Branch, for manufacturers, distributors and retailers of sex toys; and finally, the most recent add-on to the Hall, the Executive Branch, for key members of the industry who work behind the scenes in the C-suite or excelled in multiple capacities-for example, in sales, marketing or education.
In all branches, a minimum of 10 years in the industry is required for consideration. But admission is not automatic after a decade; many of the performers who are inducted have been in the industry far longer. Every year, Hall of Fame committee members confront a list of deserving candidates and choose a mix of high achievers who have given something to the various sectors of our industry.
Collectively, the 2015 class is an impressive lot. In the days leading up the the AVN Awards Show, AVN will honor the inductees at an industry cocktail party on January 20 at Luxe bar in the Hard Rock Hotel & Casino Las Vegas. The cocktail party is open to all trade attendees.
AVN HALL OF FAMEFOUNDERS BRANCH
Al Goldstein
Al Goldstein was one of the most iconic personalities ever to have graced the adult entertainment business. Egotistic, brash, feisty, savvy, spendthrift-those are just a few of the appellations tossed at him over his more than 40-year engagement with the adult industry. Goldstein is best remembered as the founder, with partner Jim Buckley, of Screw magazine, a sexually explicit tabloid based in New York City that first hit newsstands in November, 1968 and at its peak sold 140,000 copies per weekbut that was hardly the sum of Goldstein's accomplishments. In 1974, Goldstein created the talk show Midnight Blue for Manhattan Cable's Channel J, and over its nearly 30-year history, he hosted many of the famous and infamous characters populating the adult entertainment scene. Goldstein was also arrested 19 times on obscenity charges but never convicted-which allowed him to run in Florida for Broward County sheriff in 1992, and for president of the U.S. in 2007, though he was bankrupt at the time. Supported in his final days by his friend, magician Penn Jillette, Goldstein left a legacy unequalled in our time.
Marc Dorcel
French adult movie producer Marc Dorcel started off shooting full-color still photographs before switching to adult movies. He created his eponymous studio in 1979-an enterprise that has grown into a global giant. Known in particular for his Pornochic series, Dorcel uses exotic European locations, high production values and top stars in his productions, and he and the other directors who work with Dorcel have won many AVN Awards over the years.
Dorcel has moved his company far beyond just video production, however. The company also has retail stores, a content licensing business, websites, a magazine, IPTV, video-on-demand and a satellite and cable distribution business, Dorcel TV. Dorcel first made his movies available in the United States through a distribution arrangement with Vivid Entertainment, but has for more than a decade been in partnership with Wicked Pictures for distribution.
In 2010 he teamed with Lovely Planet to launch a line of luxury sex toys. At the time Dorcel said the company "is continuing to diversify its activities and, by joining with Lovely Planet, secures its way to becoming a global reference among sex toy brands for the enjoyment of men, women and couples."
MyDorcel.com made its mark in the summer of 2010 when, the company claims, Marc Dorcel offered the first adult crowdfunding operation. More than a thousand online fans participated in the production of the movie Mademoiselle de Paris. And Dorcels company also broke ground by launching its adult website by and for women, Dorcelle.com.
VIDEO BRANCH
Eli Cross
A man of many names who's worn just as many hats, Eli Cross began his career in the industry as many do, working at an adult shop-in his case, a Castle Megastore boutique in his home state of Arizona.
After such varied stints as overseeing several now-defunct hardcore skin rags and working under legendary exploitation director Roger Corman, Cross found his way to AVN, where he served as managing editor for much of his tenure from 1997 to 2002 (using the name Mark Logan, under which he continues to write X-rated scripts).
From there, he decided to make good on the film school degree he had under his belt and move into the production side of the business, directing first for Vivid Entertainment and going on to helm titles for companies including Video Team, Jill Kelly Productions, Elegant Angel Productions and SexZ Pictures.
It was at the latter where he bore what stand as two of the most ambitious adult motion pictures ever made, Corruption and Upload, which respectively dominated the 2007 and 2008 AVN Awards.
This year, Cross has two major projects in contention for honors on the big night: The Pornographer from Wicked Pictures and Wetwork from the very studio that gave him his start, Vivid. He also has a pair of mainstream productions on the way (both under his birth name, Bryn Pryor): the steampunk western Cowboys & Engines and the documentary X-Rated: The Greatest Adult Movies of All Timethe second of which he collaborated on with his old boss, AVN founder Paul Fishbein, for Fishbein's Plausible Films.
Billy Glide
Billy Glide, a highly regarded utility player who performed in more than 1,300 adult videos, would have celebrated his 20th year in the business in 2015. Alas, Glide passed away in May at the age of 43. The well-endowed, muscular stud worked steadily his whole career and even earned an AVN Award nomination this year for Best Actor for his role in B. Skow's Silhouette (Skow for Girlfriends Films). Glide also had a brief turn as a director in 2005, producing videos distributed by Maximum Xposure. Among these was his XXX Adventures road trip series, which Glide called a "mixture of Jackass and hardcore porn." In 2013, the Huntington Beach native was included in OC Weeklys roundup of the top 20 porn performers in Orange County, which noted he was "widely acknowledged to have one of the thickest penises in the porn industry."
Dan "Porno Dan" Leal
Porno Dan, as most know him, holds the ultra elite distinction of being the only male porn star other than Ron Jeremy to have a full-length documentary entirely about him in wide distribution. That movie, Danland, hit Netflix last February after a run on the festival circuit, thrusting Dan into a much broader spotlight than ever before and illustrating exactly what makes him such a singular and, yes, significant figure in the annals of adult.
Getting his start in 1999 shooting amateur content in his home state of Virginia, Dan has remained a rascally industry fixture ever since both in front of and behind the camera, whether handling sales for KSEX Radio, doing promo work for social networking hub xPeeps, starring in his own Canadian reality show (The Right Hand) or churning out his never-ending stream of live and DVD-issued triple-X fare.
In 2009, Dan co-founded Immoral Productions with now fellow AVN Hall of Famer Jim Powers, later spinning off his own sister imprint, Porno Dan Presents, both of which continue to release a formidable slate of titles each month through distributor Pure Play Media.
Kaylani Lei
One of only a handful of Asian women to achieve true superstar status in adult, Kaylani Lei made an unquestionable splash upon her arrival in 2002, being whisked in short order before the cameras of such esteemed directors as Clive McLean, Michael Raven, Nicholas Steele, Joey Silvera, Peter North, Randy West, Andre Madness and Mitch Spinelli.
Seeing her potential as a marquee name, Wicked Pictures snapped her up with an exclusive contract in late 2003, and she has remained there ever since.
Over the years, Lei has racked up an impressive litany of industry nominations and awards, most notably nods in 2004 from AVN and the X-Rated Critics Organization for Best New Starlet; a lead acting notice from AVN the same year for her work in Wicked's Angel X; and repeats of that top honor in 2005 for Sweatshop, 2008 for Candelabra, 2009 for The Wicked and 2013 for Snatched.
This year, Lei has proven she's as appealing as ever, garnering three sex scene mentions in the 2015 AVN Awards race: Best Girl/Girl Scene (opposite Abigail Mac) in Jonathan Morgan's The Masterpiece and Best Group Scene in both of Brad Armstrong's big productions for the year, Aftermath and Holly Would.
Joanna Jet
London-born transgendered woman Joanna Jet got into the adult industry at the turn of the century and quickly became a sought-after actress by such directors as Roy Alexandre (of Transsexual Beauty Queens fame), Sammy Mancini and Steve Volponibut almost immediately, Jet began directing her own features, beginning with the She Male Jet Set series in 2002, and forming her own production companies, Altered State and Brazen Devil. Jet has been one of the prime movers among the XXX transgender community to push for increased recognition of the genre and the accomplishments of its performers, and was partly responsible for AVN adding Best Transsexual Sex Scene to its awards categories. In 2003, she became the first transgendered columnist for AVNInsider.com, and over the years has been nominated for awards by several industry organizations both here and in the U.K.none of which helped her when she ran afoul of immigration authorities, which kept her out of the U.S. for several months in 2006.
Kelly Madison
Known for her 34FF breasts, Southern California girl Kelly Madison grew up on the beach and had a love of being in front of a camera even as a child. The star of KellyMadison.com (alongside husband Ryan Madison) admits to playing "Doctor" with her cousin Janine Lindemulder, another AVN Hall of Famer, when they were young. ("I guess we have each other to thank," Madison quips in her official bio.) After starting out in the mainstream world in a sales position (she was vice president of sales), she met Ryan, who was 10 years younger and a graphic artist. It wasnt long until they left their jobs to be together and start a porn company. Madison notes she originally planned to be the talent coordinator for the content, but after unreliable and undependable girls answered their ads, the couple agreed Kelly should be the model. Now, almost 15 years later, the company runs several websites and produces videos on a monthly basis.
Andre Madness
Director Andre Madness first came on the XXX scene in 1992, directing two amateur productions for Gourmet Video, but it wasn't until 1998 that he really got into the swing of things, directing for top companies Elegant Angel and Video Team. Since then, Madness has helmed nearly 250 titles, creating several popular series for Kick Ass Pictures and reaping good reviews for many of the titles he directed for Adam & Eve, Hustler Video and New Sensations. Director Mason credits Madness for helping her career by giving her experience as a cinematographer and editor, and bringing her into the Elegant Angel fold as a director in 2002. In 2004, he opened his own production company, Madness Pictures, which released its last title in 2012 after a run of 55 titles including such series as 12 Nasty Girls Masturbating and 13 Cum Hungry Cocksuckers. A friend of the late David Aaron Clark, to whom he gave directing jobs at Madness Pictures, the director released a posthumous compilation of Clark's Asian-themed work in 2010. He also put actress Shy Love under contract in 2004 before she switched tracks to become a talent agent. Madness continues directing to this day… and has thrown his own hat into the agency ring as co-founder of Nexxxt Level Talent Agency with fellow veteran director Jonathan Morgan.
Craven Moorehead
Craven Moorehead struck up a friendship with iconic porn star Peter North after meeting him at a gym. That encounter resulted in North mentoring Moorehead, leading to Moorehead's first acting gig, where "I played Peter's son, and that opened my eyes to the possibilities in the world of porn. I saw that there was room for improvement in the business, though, and I figured I'd spice it up." Since then, Moorehead has directed more than 300 titles for a number of different companies, appearing in a fewincluding his namesake Oral Adventures of Craven Moorehead series. In his career, Moorehead has received more than 15 AVN Award nominations and on the mainstream side has shot many music acts, among them Slash, Korn, Alice in Chains, Ozzy Osbourne, Linkin Park, Stone Temple Pilots, Janes Addiction and Billy Idol.
Wesley Pipes
Wesley Pipes has performed in more than 1,000 productions under a variety of namesincluding Jonathan, Jesse Outlaw, Cousin Wesley, Wesley P. Ghettochild and Ghetto Childsince making his first appearance in 1998. His filmography includes an AVN Award-nominated Most Outrageous Sex Scene for Glazed and Confused 4 in 2004. He continues to stay busy a decade later, working for a variety of companies this yearDevils Film, Elegant Angel, Evasive Angles, Jules Jordan Videoserving as an MVP in interracial and gangbang titles. And more recently hes got a new venture: check out his first album at MastapieceInc.com.
RayVeness
Though her IAFD.com filmography only goes back to 1992, North Carolina native RayVeness puts her start date two years before that, which means the pale-skinned, naturally busty beauty is on the cusp of celebrating her 25th year in adult. Despite a couple of short breaks to first pursue a mainstream career and then to start a family, shes appeared in more than 450 titles. RayVeness also bears the distinction of being the first Girlfriends Films contract girl. When GFF founder Dan OConnell signed her in 2009, he said RayVeness was ideally suited to Girlfriends Films' style of plot and seduction. … RayVeness can take on a variety of characters and hits grand slams every time, especially when it comes to soft and plausible seductions of young Sapphic virgins." Though she is no longer an exclusive with Girlfriends, RayVeness continues to work for the studio, including an appearance in its landmark Women Seeking Women 100.
Will Ryder
A bona fide renaissance man, Will Ryder (the nom du porn of industry veteran Jeff Mullen) has made more strides in advancing adult entertainment as a whole, and singlehandedly commanded more facets of it, than virtually any other individual in the past two decades.
Director, producer, screenwriter, publicist, cameraman, composer … it's not an exaggeration to call the man a walking, talking porn factory. What many don't know, however, is that his ties to the industry stretch all the way back to the mid-'80s, when over several years he scored dozens of pictures for Roy Karch, John T. Bone and others.
Ryder re-entered the business in 2001 as the PR rep for New Sensations/Digital Sin, and was responsible there for bringing in rap artists 50 Cent & G-Unit to appear in and contribute music to smash interactive release Groupie Love. In 2003, he started his own PR firm, All Media Play, and together with partner Scott David gave birth to a new brand of porn party, throwing true Hollywood megabashes that remain some of the most memorable the industry has ever seen.
During the same time, Ryder began moving slowly into directing, launching his own production label with David, X-Play, under which he produced and helmed his first triple-X parody, Britney Rears Wild Back Stage Sex Party, in 2004. It was really 2007's Not the Bradys XXX, however, that opened the floodgates for the modern-day porn parody, revolutionizing the genre with its pitch-perfect re-creation of the original show and generating buzz outside the typical porn-buying demographic with the scads of mainstream media coverage it attracted.
The number of awards Ryder has accumulated for his work behind the camera is prodigious, and in fact includes the reigning honor of AVN's Best Director – Parody for his infectious Not The Wizard of Oz XXX. Going into the 2015 AVN Awards ceremony, he stands to repeat that victory for either of two banner titles he has in contention: Smash Pictures' American Hustle XXX Porn Parody or his own X-Play production Not Jersey Boys XXX: A Porn Musical.
Karen Summer
Karen Summer got into the XXX business just as the industry was starting to hit it big. Adult movie theaters were still opening, adult videotapes were being distributed nationwide, and Los Angeles was beginning to supplant New York and San Francisco as the production center of the adult industrywhich is how a little blonde Jewish girl from the San Fernando Valley, not long out of high school, went from doing "extra" work in Hollywood to having hot sex on camera. In her time, Karen worked with some of the best: directors like Kirdy Stevens, John Stagliano and Larry Revene, and fellow performers like Ginger Lynn, Colleen Brennan, Harry Reems, Jamie Gillis, John Leslie and many more. Karen recently returned to XXX after a 20-plus year absence, so now's a fine time to recognize her past accomplishments.
Talon
The younger brother of performer/director T.T. Boy, Talon went into the family business in 1990, doing gay and bi scenes for Catalina Video under the name Lex Baldwin and appearing on the cover and centerfold of Playgirl magazine. He won Fresh Surprise of the Year at the 1991 Grabby awards and Hottest Bottom at the 1995 Men in Video (Probie) awards. After a break, he resurfaced in 2002 as Talon and has performed in some 1,500 productions, for companies as varied as Adam & Eve, Jules Jordan Video, Red Light District and VCA. He is best known for the quiet intensity he brings to his scenes.
Tim Von Swine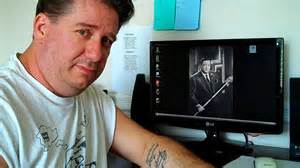 Tim Von Swine, the "Average Joe" of porn, got his start in the adult industry in 2003 and has since made his mark performing in and directing a number of different hardcore gonzo titles and series for companies ranging from Red Light District to Platinum X to Vouyer Media to Shane's World to Mike John Productions for Jules Jordan. Von Swines strength through the years has proven to be in the gonzo genre, as well as POV. He has dabbled in parodies as well, appearing in Cops XXX: The Parody Too and Roseanne XXX. His recent work with Mike John Productions-Praise the Load, Totally Unprofessional, Jerkoff Material and more-have won numerous awards from several adult organizations, including AVN and XRCO. He's also taken home statues from CAVR and Adam Film World for his work.
EXECUTIVE BRANCH
Greg Alves
Though these days his name is more often heard in conjunction with the pleasure product business, Greg Alves got his start on the video side of adult. Before he founded Zero Tolerance Entertainment in 2003, Alves already had spent some time in the trenches at Elegant Angel, Metro Home Video and his own ToXXXic Productions. When he started ZT, Alves said, "I feel that with all of my experience in retail as well as wholesale that I'm very in touch with what the consumer wants."
Directors who have worked with ZT include Mike Quasar, Mick Blue, Mark Davis, Chris Streams, David Perry, Gary Orona and Miles Long. Among the studios contract stars were Courtney Cummz, Sara Sloane (aka Vandella) and Kagney Linn Karter.
The studio added various affiliated studios over the yearsBlack Ice, Third Degree Films, Fallout Films, Addicted 2 Girlsbefore making its biggest move toward diversification in 2006. Thats when Alves and Gregg Alan, founder of Diabolic Video, started Evolved Novelties. The pleasure product manufacturer grabbed attention with its packaging, which Alves said was inspired by a pair of sunglasses he saw that were sold in a stylish metallic tin.
According to Alves, Evolved was the first company to do plan-o-grams for our products, to help retailers know how to display and sell the products … it really set us apart. Since then Evolved has set itself apart in other ways, among them creating a line of sensual products for reality TV star Kendra Wilkinson and winning the brand license for Adam & Eves lines of lingerie, toys and novelties.
Marci Hirsch
For Marci Hirsch, porn has long been the family business-even though she avoided being part of it for eight years after Vivid Entertainment Group, of which she is now vice president, was born. Marci's dad, Fred Hirsch, formed Adult Video Corporation in the late '70s, for which Marci's older brother Steve was a salesman before starting Vivid and when Marci joined her brother's firm, her first assignment was as company liaison to Adam & Eve, which partnered with Vivid in some productions. From there, she continued to add duties, including budgeting, script approval, release scheduling, product licensing, dealing with VOD providers, looking after the Vivid Girls and their schedules-and many of the myriad little things that companies need to stay profitable. Marci is currently on the board of the Free Speech Coalition, and is one of the plaintiffs in the federal lawsuit against Los Angeles County's Measure B.
Bonnie Kail
Bonnie Kail has been in adult video sales for more than 20 years, but to some, her knowledge of the business and infectious energy has made her legendary beyond her years. The daughter of another super-salesperson, the late Ed Kail of VCA Pictures, the younger Kail has had a storied career in XXX, beginning with her first position with Caballero Video when it was still owned by Al Bloom and Howie Klein, selling their products to retailers before she moved on to Las Vegas Video, where she remained on staff for 10 years. But eventually, Kail did move on, hawking videos for Heatwave Entertainment before joining performer-owned company Platinum X Pictures in 2003, and after putting their sales staff in order, moving on to sell for Devil's Film for two years. Kail is now on staff at Wicked Pictures.
Howard Levine
"When people think of porno, they think of Vivid," Howard Levine told AVN when the adult company turned 25. And we would add that when people think of Vivid, they think of Howard Levine. But though the feisty sales guru was with Steven Hirschs company for more than two decades, his rsum doesn't begin and end there. Levine got his start in 1986 at General Video of America, serving as the national sales manager before he decamped to Vivid in 1990. There he stayed until August 2007, when he shifted his energies to sister labels Club Jenna and Reality Kings. As national sales manager for Club Jenna, he represented the production company and its associated studios, including Filthy Films and Philip Mond/PGP Productions. By July 2009 he was back again with Vivid, selling the studios product at Pulse Distribution.
In 2011 he made some major career moves. In January, Levine joined forces with Exquisite Multimedia owner Jerry to form Exile Distribution. And in December he made his directorial debut, Super Porn.
In addition to indulging his passion for motorcycle culture (which benefited FXs Sons of Anarchy when Levine helped out with casting adult stars in the series), Levine puts his considerable energy toward promoting his clientsespecially his pride and joy, Forbidden Fruits Films, which he has worked with since October 2012.
Dan O'Connell
We remember Dan O'Connell from his very first Adult Entertainment Expo back in 2002 when among the few videotapes (!) that he was marketing was the first volume of Women Seeking Women, and his company Girlfriends Films was still in its infancy. Since then, O'Connell's directed, usually anonymously, nearly 500 Girlfriends releases, and Women Seeking Women passed its century mark early in 2014, with WSW 111 having been released in November of that year. But part of O'Connell's genius, aside from a knack for writing edgy tales like the Lesbian PsychoDramas, Mother-Daughter Exchange Club and Poor Little Shyla series, has been choosing his employees well-to the point that he recently sold his entire company to his righthand man, Moose. O'Connell is also one of those rare producers who is universally liked by both performers and fellow producers-and well deserving of his induction into AVN's Hall of Fame.
PLEASURE PRODUCTS BRANCH
Joe Bolstad
Joe Bolstad co-founded Kama Sutra Company in 1969 with Hal Hauser. The pair hoped their Oil of Love and other sexual products would spread a message of peace; items that would encourage people to come together in a wholesome, loving and positive way. Today, Bolstads company offers more than 60 bath products, body paints, massage oils and other products, in addition to the Original Oil of Love. From humble beginnings, Kama Sutra has grown into a sophisticated company offering classy and sensual products enjoyed by women and couples. And all of the companys products are made in the USA.
Pavle Sedic
Bother of Filip Sedic, who founded LELO in Sweden with Eric Kalen and Carl Magnuson, Pavle Sedic helped to bring the luxury designer brand to an American audience when he opened an office for the company in Silicon Valley in 2006, from which he runs its U.S. operations. Sedic and his U.S. team of more than 20 people have grown the brand, making the United States the biggest individual market as a country for LELO. Sedic is also very hands on with the product, owning several design patents himself.
Ari Suss
Ari Suss has his fingers in a number of pies, so to speak: From wholesaling sex toys to designing fetish gear and developing electrosex products, he does it all under the umbrella company XR LLC. Suss and his business partner began selling straitjackets on eBay in their spare time, but the venture was so successful they soon turned it into a full-time career. In 2000, they founded the online fetish shop eXtreme Restraintswhich, along with spin-offs Boyzshop and Jennas Love Shop, is found on NicheShops.com.
INTERNET BRANCH
Steve Lightspeed
As the founder of LightspeedCash along with the many unique sites that flourished under that innovative program, Steve was an originator of the teen solo-girl niche, which eventually became a staple in the industry as an category of content that remains popular with consumers of adult content to this day. In 2007, Steve told AVN that he had started Lightspeed in 1999 as a hobby, but it was soon obvious that both Lightspeed and the entrepreneur who founded it were far more than that. As the industry has changed, so has the affiliate model, but LightspeedCash endures.
Lensman
For someone who many younger adult webmasters don't know existed, Lensman's contributions to the adult online industry are matched only by the extent to which the products he founded are still in daily use today. Indeed, just to mention GFY.com, Webmaster Access and Adult.com is to mention three of today's more potent brands, all of which were created out of Lensman's fertile imagination, which also was responsible for the creation of AmateurPages.com back in the day. Lensman, who became an executive vice president at Playboy Enterprises after selling his assets to the company, retired from the industry in 2008.
Botto Brothers
Rich and Robert have been retired from active participation in the adult online industry for several years, but as the founder/operators of MaxCash, one of the industry's most successful affiliate program, as well as legendary websites like Kara's Adult Playground, their influence on the early development of the industry's affiliate model is indelible. During the Wild West days of the online industry, for many the Golden Age of adult affiliate marketing, MaxCash was a big dog, making untold millions of dollars for its affiliates over the years, all thanks to the brothers.