The AVN Hall of Famer hits the big screen in Paul Thomas Anderson's film of the Thomas Pynchon novel.
This is a post I'm so happy to be writing. I first met Michelle more years ago than either of us would probably care to admit (it was pre-Whiteacre), and I've always considered her to be one of the finest ladies who ever walked on two feet.
As anyone who's ever encountered her — friends, co-workers, fans — surely knows, Michelle has an incredible energy about her; a warmth and kindness that that makes everyone around her a little bit happier. She's simply a marvelous, nice person.
We'll, Michelle Sinclair transitioned away from her Belladonna 'porn superstar' persona some time ago, and she has now re-emerged as the co-star of Inherent Vice, the new film from acclaimed director Paul Thomas Anderson (Boogie Nights, Magnolia, There Will Be Blood, The Master).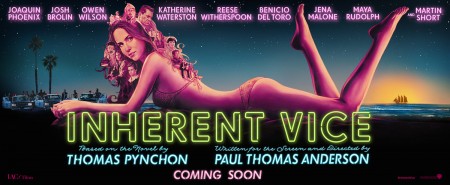 The incredible cast includes Joaquin Phoenix, Josh Brolin, Benicio Del Toro, Reese Witherspoon, Owen Wilson, Martin Short, Maya Rudolph and Eric Roberts — and Michelle's five minutes of screen time features her working opposite Phoenix and Rudolph.
Here's the film's trailer
Awesome, right?
Here are two shots of Michelle looking radiant on the AFI Fest red carpet
Information about the film can be found here and  here, a report from the premiere by The Hollywood Reporter can be found here, and Michelle talks to AVN's Peter Warren about it here.