Quasar Talks Her Through First-Timer Jitters
VENICE, CA – Nadia Styles' first-ever vaginal creampie is being released on DVD this week. At least she thinks it is.
She knows that Staying In 3 (3rd Degree) hits shelves this week, but she's not quite 100 percent that it was her first creampie.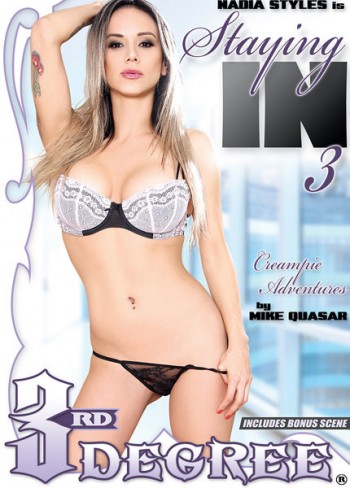 "I believe this is my first vaginal creampie," she said. "And I say it like that because after 300 or so scenes, a porn star sometimes forgets about how the cum was released on her in every scene. Anal creampies I have definitely done, but I believe this was a first because I was nervous before I did it, as if it was my first scene. I was nervous because I didn't know how it worked. What if I did it wrong! It would be a porno tragedy."
Director Quasar was able to calm her with his quick explanation: the guy cums inside your pussy, you push it out. Nadia relaxed.
"I did the scene with Marco Banderas we had a blast," she said. "Sloppy blowjobs makes him hard and that's one of my favorite things to do! So we truly connected in this scene. And in the end, the creampie worked out for the viewer to see – mission complete! It was a creampie learning experience for me. I went home sexually satisfied and a little more sexually knowledgeable."
Check out Nadia's recent ADT interview at http://interviews.adultdvdtalk.com/nadia-styles/.
To book Nadia contact ATMLA at http://atmla.com/atmla2/tour/performers/37564-pornstar-nadia-styles/details.php. Follow her on Twitter (@IamNadiaStyles). For everything Nadia go to http://risingstarpr.com/news/?page_id=7561.