It's not about who you know, it's about who you fuck. That's why we have Lauren, before she started fucking Nexxxt Level's co-owner Jonathan Morgan, she was Bobbi Dylan, a nobody with dreams. Now she gets cast in movies because Jonathan tells people that other girls aren't available, which has someone how given her a false sense of being important.
Which brings us to the Hot Movies Porn Tournament contest, Carmen Valentina vs Lauren "I love Johnathan" Phillips. Now for a little background, Lauren always say she is being cyberbullied. Here's an example where she claims she was being cyberbullied. In reality, she was called out for mocking the terrible Las Vegas shooting in late 2017 and trying to promote herself off it.
Lauren, is the 32nd seed, the one that pulls off a couple upsets but eventually looses to the superior opponent, in this case, Carmen Valentina. Typically, that in- over-their-head 32 seed is content on knowing they gave it their all and gets ready for 2020. But not Lauren, once she realized the Cinderella season was over, she started acting like a whiny fucking bitch.
First she complained privately to Hot Movies about the way Carmen was promoting herself via Twitter. When that failed, she went public, telling her fans not to vote for her anymore, a whopping two and a half hours before the round ended.
The tweet Carmen made went out Wednesday afternoon, Lauren didn't have any issues until Friday, when she knew she wasn't going to win.  In her little mind, the only logical explanation for her catching the beat down is Carmen's fuck a fan tweet.
Talk about a spoiled fucking brat.
She's talking about SESTA/FOSTA, the shit that closed down most of the hooking sites. In fact, one could go as far as to say, SESTA/FOSTA was put in place to end hooking. Which to me sounds odd coming from Miss Phillips-Morgan.
Now, I'm no investigative blogger,  but I would think someone with escorting ads on the World Wide Web wouldn't be complaining about someone else's Fuck a Fan. After all, when it comes to porn chicks, escorting is basically fucking fans.  Don't believe me?  Google "Book Lauren Phillips" and see for yourself.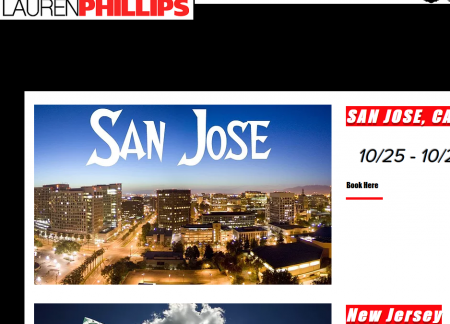 Maybe the FSC can explain to Lauren about advertising "tours" and SESTA/FOSTA, its not like people aren't getting arrested for that.
Smartest thing Lauren has said in 20 years:
That's why you're out!  Plus, dont you have a tour coming up? I'm sure there's a crisp $100 bill out there with your name on it. You can use it to buy more red hair dye for your head and bush. Oops, did I spill the beans?