After watching this video, whereby porn stars show pedestrian chicks how to properly engulf a dick, Dana De Armond might be my new favorite porn star. For one, she really seems to know her way around male genitalia and, secondly, she took the task at hand and she did it with fucking gusto. The other stars kind of kept it pretty tame, but not De Armond. Oh no, she left it all on the field. The dick sucking field.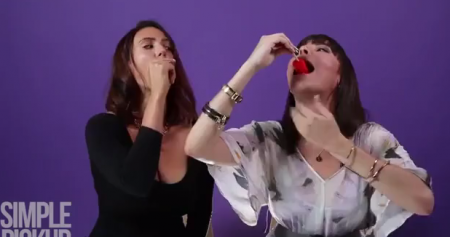 De Armond didn't have to do that. She could have given canned answers and said she like, "don't use your teeth" and "cradle the balls unless you're some kind of selfish whore" and the video still would have gone viral because porn videos like this ALWAYS go viral. But instead she went for it, she was all like, "suck life's dick" and then she did exactly that by doing naughty things to a bunch of popsicles.
Just look at Dana go! Fellating her little heart out. Love the enthusiasm.
Check out all the pics and vids