Innovative Wish List service provider DeliveryCode.com is inviting adult stars to its service after Amazon began enforcing a policy banning adult models and talent from using wish lists on its site.
After a year where scores of adult stars and models had their Amazon wish lists deleted and their accounts abruptly canceled due to a policy targeting adult performers, DeliveryCode is offering them an easy, efficient and secure way to manage their wish lists.
"We've heard so many stories about discrimination of adult stars so we wanted to invite the industry to use DeliveryCode for all its wish list needs," said DeliveryCode Retail Director Sarah Stokely. "You don't need to worry about sudden cancellations or abruptly losing contact with your fans! DeliveryCode is secure and puts any item on the Internet within reach!"
Since its launch at the beginning of February, DeliveryCode.com has become the home of over 400 celebrity wish lists, with over half of them belonging to adult industry performers.
To further make things easier, the all-new DeliveryCode™ App offers users a state-of-the-art, luxury gifting-app that allows adult stars and other celebrities to interact with fans without breeching privacy concerns or revealing delivery locations.
To download the DeliveryCode app from the Apple Store, click here.
The application is a privacy-protecting platform connecting fans with celebrities through curated Wish Lists of unlimited high-end boutiques and brands. Anyone may create a DeliveryCode Wish List™ by easily adding products from any online retail site in the world. In the case of celebrity wish lists, fans may purchase items directly from the list without ever obtaining access to the celebrity's personal information. Shipping addresses are never shared on DeliveryCode and remain private.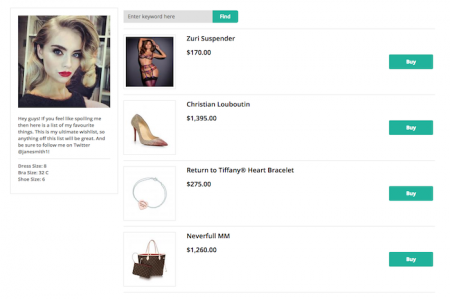 "With the launch of the state-of-the-art app, we are giving customers a mobile, secure and easy-to-navigate platform to post their wish lists for fans, friends, family, and admirers," said DeliveryCode Retail Director Sarah Stokely.
"DeliveryCode Wish List™, is not just for celebrities, but for anyone who wants to feel like one when the luxurious gifts start coming in," she added.
An introduction video to the DeliveryCode App is available at: http://youtu.be/ch2Isq66_J8.
App users may easily register via the application or website, and their profiles are customizable by adding a short bio and photo, and filling in a size guide. Customers are then ready to create their wish list by visiting shopping sites and adding items from those sites to their wishlists.
Stokely stated, "It's easy to share the list on Twitter, Facebook, or other social media platforms, so followers can go directly to the wish list page and purchase items, which are delivered directly to the beneficiary's front door without ever requiring their address."