Edison, NJ – It is that time of year again in the great Garden State. The leaves are changing colors, the only candy left in the Halloween bowl is a couple of those lousy Mary Janes, and the Porn Biz invades for a weekend.
The eXXXotica Expo held its seventh annual event that induces boners and dampens panties like no other. From fanboys to couples and from the curious to the hardened degenerate, all types trekked to the Raritan Center, to experience the variety of stimulation its walls contained. As TRPWL's Staff Degenerate (should have gotten that on the business card), I was once again tasked with documenting the festivities for our readers.
Note: Although the Pittsburgh Steelers were guests of our lovely state this weekend, there is no evidence that their poor performance on Sunday had anything to do with attending the eXXXotica Expo. I can not speak to the effects that the variety of after parties had, as I did not partake. J-E-T-S JETS! JETS! JETS!
And to get the readers jets going, I'll start off the photos with Anikka Albrite's lovely hindquarters.
Porn legend Tory Lane, one of the hardest workers in the Jizz Bizz.
Can you believe Kayden Kross had a baby in the past year?
Maserati has some huge chocolate melons. I bet if she put one on Mike South's shoulder, it would crush his hip.
Shameless plug for Chaturbate, along with my affiliate link. Chaturbate Help a pervert out, TRPWL don't cover gas and tolls.
Sexy Whitney Westgate
Stationed around the floor of the eXXXotica Expo were various sets for photo ops with the various models hired for the event. Here we have a lean, athletic hottie who goes by Agent_TopChick Agent_TopChick.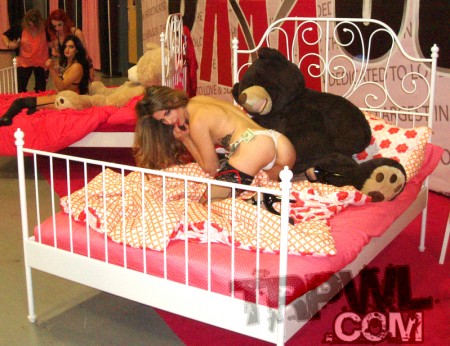 Petite Asian hottie Morgan Lee
Adriana Chechik was looking sexy as ever. I didn't realize how little she is, 5'2. Mmmmmmmmmmm.
Heather Vahn couldn't show me her Tasties, so she let me look at her Pasties.
There is another round of photos to come, and also a stand alone post on the eXXXotica Dungeon. For now, I leave you with a chocolate shake. (Volume Warning. Background music is loud and bass heavy.)
[youtube http://www.youtube.com/watch?v=lqFPVWp08G8&w=560&h=315]