After weeks of nominations and fan voting, The Fanny Awards Ceremony was held at the Trump Taj Mahal's Xanadu Theater. There was a lot of time spent waiting for the performers and luminaries to start walking the red carpet. I may have consumed too many Bacardi and Cokes during this time, but obviously not as many as the guy who got in the shouting match I previously spoke of.
I think they let Medicated Pete, The Howard Stern Show's former intern, walk the red carpet first, just in case he couldn't make it.
The awards show itself had some issues. The microphones needed to be changed three or four times, do to the volume fading in and out. It was horrible during Belle Knox's acceptance speech for New Girl On The Block. Only every third word was audible, but it was with the volume cranked to 11. At that point I kind of checked out, only trying to listen for the announcement of the winners.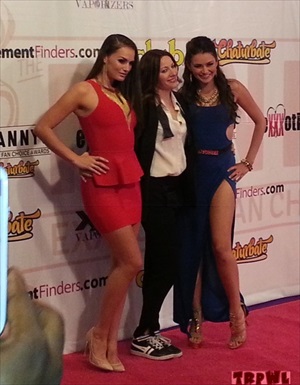 Just prior to announcing Kelli Shibari was the winner of the evening's Whole Lotta Love award, the presenters told the crowd that former WWE Diva Ashley Massaro would not be presenting the award due to some backstage incident. I hope it had something to do with a headlock.
A few of the winners were unable to attend the show. Someone accepted on behalf of smoking hot Cyber Hustla winner Chronic Love. Bonnie Rotten, Supa Freak, and Ash Hollywood, The Who?, accepted their awards via video message.
Other Fanny Award winners were:
Cocksman of the Year: Manuel Ferrara
Most Valuable Vagina: Lexi Belle
Director of the Year: Axel Braun
Movie of the Year: T&A
Who's Your Mommy: Tanya Tate
Thirsty Girl: Riley Steele
Non White Chick of the Year: Veronica Rodriguez
T.S. I ♥ U: Eva Lin
Most Heroic Ass: Alexis Texas
There were also some industry awards given, in addition to Lifetime Achievement honors presented to Nina Hartley and Evan Stone. There were also a few breaks in the action where the Peek A Boo Review did burlesque routines.
With the event headliner Treach locked up, Fanny Host Bonnie McFarlane announced Rubber Doll would be the show closing entertainment.
My opinion of the Fanny Awards show is completely tainted by the microphone problems. It doesn't matter to me if a former WWE Diva presented an award or not. I was actually thankful Treach wasn't there and I wouldn't have to hear that OPP song for the billionth friggin time. The multiple mic changes and to have the people on stage just keep going, when half the crowd can't hear them, drove me crazy. The main reason I'll buy a ticket to next year's Fanny Show is that I can't fathom that happening again.