Whether the feminist movements in Europe and France rally behind them or not, the controversy surrounding feminist protest group FEMEN continues. Triggering a barrage of criticism and attacks on social media, in the press and within some political circles, the members of FEMEN–using their bare breasts as simple yet radical weapons–seem to serve as a symbol of protest for women facing difficulties all over the world.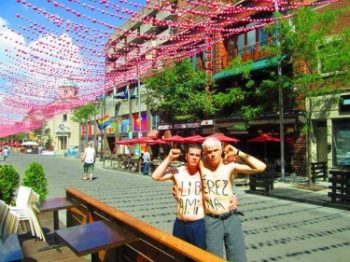 When a man sets himself on fire in protest, no one thinks to accuse him of harming any social justice movements. So is FEMEN jeopardizing women's rights with the radical nature of their actions?
Following FEMEN's shows of support for Tunisian FEMEN activist Amina Tyler, who had been threatened by Tunisian leaders for posting topless political photos on her Facebook page and was arrested for painting the group's name on a cemetery wall in Kairouan in protest at a planned meeting of radical Sunni Muslim Salafists, Karima Brini [fr], founder of Tunisian association Femme et citoyenneté (Women and citizenship), wrote that such radicalization can be damaging [fr]. Three FEMEN activists were later arrested and imprisoned for protesting topless in front of the Justice Ministry in Tunis in support of Tyler: Translated
The reasons for their fight against the exploitation of women are honourable. But what they have done here in Tunisia will adversely affect us because people will be inclined to associate their actions with organizations working for women's rights.
There are likely many circumstantial reasons that the FEMEN movement has been experiencing so much media success. With unceasingly white-hot Twitter [fr] accounts (nearly 7,000 followers for FEMEN France) and passionate Facebook [fr] pages for every country (nearly 40,000 likes on the FEMEN France page), as well as a content-filled website, it is clear that FEMEN activists know how to use all the means at their disposal to make some noise–and they do.
It seems their key to success lies simply in their radically innovative means of protest: a simple, powerful, effective, iconic, popular, universal, and age-old gesture, a huge kick in the hornet's nest. A gesture that Olivier Ciappa [fr] wanted to reflect in the new French stamp he designed, bearing an image of the country's national emblem Marianne inspired by prominent FEMEN activist Inna Shevchenko:
She best exemplifies the values of the French Republic: liberty, equality, fraternity. Feminism is an integral part of these values. And Marianne was topless during the Revolution, so why not pay tribute to this fabulous FEMENist?