From EJ Dickson at The Daily Dot:
Earlier this month, Belle Knox, a.k.a. the "Duke porn star," wrote an op-ed for Rolling Stone defending sex workers, advocating for the legalization of prostitution. "The time has come for the world's oldest profession to be legalized in the so-called Land of the Free for public health, safety and opportunity," Knox wrote.
Knox's piece was impassioned, sensitively written, and well-argued, but it failed to make an important distinction between legalizing sex work, and decriminalizing sex work. Legalization of prostitution would likely entail sex workers working in licensed, heavily regulated brothels, as is currently the case in a select few counties in Nevada and nations like New Zealand, whereas decriminalization would not require sex work to take place under regulated conditions and would simply entail the abolition of laws criminalizing sex work.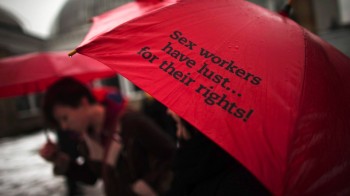 Most sex workers support decriminalization over legalization, on the grounds that legalizing sex work would lead to the adoption of restrictive new laws that sex workers would have no part in authoring.