Los Angeles – Elegant Angel brought the genre of squirting to the masses with their popular series, 'Squirtwoman.' Now, the company is proud to revamp their seminal series with it's most ambitious features yet, "Squirtwoman Wasteland." Starring Kleio Valentien, "Squirtwoman Wasteland" is director Dreadneck's homage to "Wasteland", Elegant Angel's multi-award winning feature.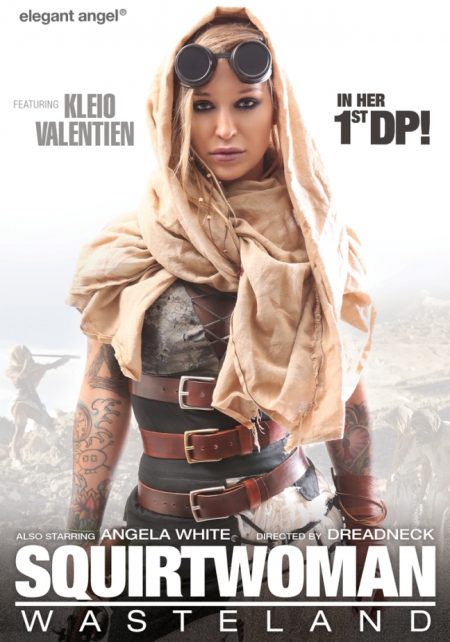 This unique take on the series is the first time Elegant Angel presents Squirtwoman as a feature movie. It also features Kleio's first and long-awaited double penetration scene, and obviously, lots of squirting. "Squirtwoman Wasteland" also stars Angela White, Markus Dupree, Tommy Gunn, T. Stone, Brad Knight, and James Deen. All pre-orders of "Squirtwoman Wasteland" are shipping immediately, and fans can find it on retail shelves September 24th.
"Squirtwoman Wasteland" is a two hour cinematic wonder, set in a post-nuclear world. Kleio, who is still mourning the loss of her husband, realizes her life is in danger, as she holds the secret that can save the rest of humanity. Wandering the vast wasteland, Kleio encounters several people along the way, who either help or hinder Kleio's journey. The four sex scenes that carry the story along will leave fans wanting more. The first scene features Kleio, Markus, and Tommy in her first DP. Next, Kleio meets Angela, who wants to drink from Kleio in the DVD's only GG scene. The third scene is a hot blow job scene, as Kleio tries to escape T. Stone and Brad. The sex scenes close with Kleio nearly giving up until James gives her the anal energy she needs.
Kleio Valentien was honored to be selected as Squirtwoman, and was excited to star in this feature. She commented, "I want to thank Elegant Angel for this incredible opportunity. First, being chosen as Squirtwoman was an honor in itself. But, when I heard that it was going to be presented as a feature, I couldn't wait to start working on it. I've been waiting a long time to do my first DP, and am happy that it was for this film. The entire cast and director Dreadneck were a pleasure, and I think fans will be in awe with the story everyone created!"
Elegant Angel will ship all pre-orders of "Squirtwoman Wasteland" starting today, and copies will be available for purchase online and at retail stores everywhere on September 24th. Fans can view the trailer at https://elegantangel.empirestores.co/2535269/squirtwoman-wasteland-porn-movies.html.
Elegant Angel's official membership website, ElegantAngel.com, boasts a catalog of over 950 movies, including classic content to exclusive access to new scenes and BTS before they are released on DVD. Members can watch online through a Roku streaming device, and enjoy a 10% discount on all sex toys and DVDs purchased through their official online store. Elegant Angel offers several membership packages to fit every budget, starting at just $0.41 a day.
Follow Elegant Angel on Twitter, https://twitter.com/elegantangelxxx, and Instagram, https://www.instagram.com/theelegantangel/.
For sales inquiries, please contact Jerry at sales@elegantangel.com or 818.576.9464. Broadcast and foreign inquires can be directed to juicyvideo@aol.com.
PR for Elegant Angel is provided exclusively by XXX STAR PR. Follow us on Twitter, @XXXStarPR and check out our website, xxxstarpr.com. For interviews or media inquiries, contact xxxstarpr@gmail.com.