(Melbourne, AUS / July 27, 2022) — Emily Mai has been blessed with a successful career as a model and online content creator, but when she became pregnant with her first child a few years ago, she observed a cultural shift in the making that surprised her: an erotic fascination with pregnancy and lactation content.
The Australia-based entertainer says that "so much information is accessible on the internet now that people can easily research and understand their different kinks/fetishes. Before my first pregnancy, I researched pregnant creators to understand how they ran their pages and social media. It was a lot harder to find a few years ago and even now, I feel like it's still a taboo subject.
"Finding pregnant creators on porn sites is relatively easy, but finding interactive creators on sites like OnlyFans is harder, as I know many creators that have chosen to keep that part of their life private. However, as more and more creators share this part of themselves, it is definitely making this part of the industry less taboo for fans to explore."
One thing Mai has noticed over the past couple of years is the unique requests she's had to accommodate. "I get asked every single day for lactation content. Unfortunately OnlyFans doesn't allow it, so I do have my Fansly page set up and ready to post when my milk comes in post-birth. A lot of the requests are pretty simple – spraying milk, drinking the milk, etc.
"Another huge request I've had now that I'm in my third trimester is for labour roleplay videos. I get asked this multiple times a week, whether it's just to have contractions on camera or to depict the birthing process. I am currently planning to make a video like this soon, but I'm still working out how to film it to get the best POV angles so they feel like they are there with me during 'labour'."
While she believes that these specific fetishes have only been acceptable with the rise of the availability of online content on fan platforms, Mai laments that "people still tend to have a negative view of sex work and sex workers, but I believe so much of that has to do with their own sexual trauma and societal conditioning."
After a few years of 'normal' jobs, Mai is grateful for the opportunity to explore new kinks with her clients, and doesn't regret her career choice. "I knew that I did not want to be working in an office for 40+ hours a week while my children were in day care. This job has allowed me to have more time to be present with my son and pregnancy. When my son is asleep, I get work done; when he's awake, I have the opportunity to make the most of mum duties like cooking, cleaning and connecting with him. I work more hours now, but the flexibility within my day is what means the most to me."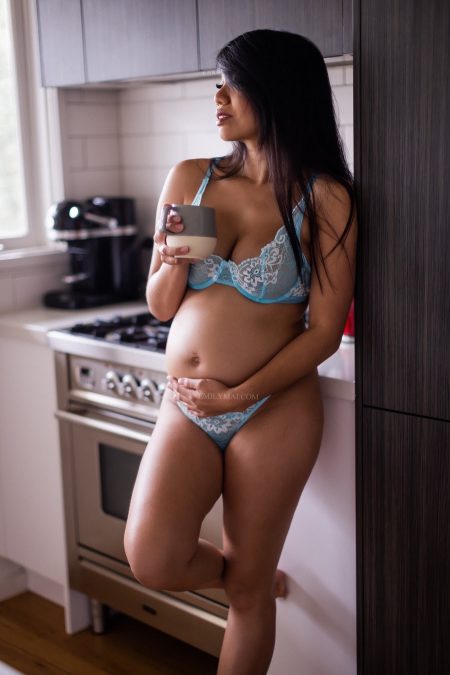 Emily Mai's specialty lactation content is available exclusively on her Fansly.com/itsemilymai page. For all other content, visit: