Van Nuys, Calif. – Aiden Starr is the newest pornographer at leading adult studio Evil Angel. As a kinky gonzo video star and an established fetish fiend in her personal life, the blonde beauty's labors of video lust attract two separate, growing audiences.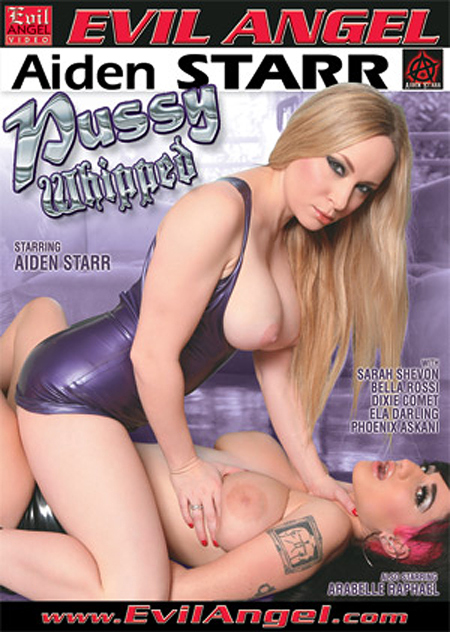 "I'll be making porn that reflects my sexual tendencies, which are very rough," promises Starr. "I'm a lifestyle fetish player with a walk-in closet full of exotic sex toys. I love submissive girls. There's nothing hotter than watching a pretty girl orgasm-overload while she's getting whipped or fucked." Starr says she'd like her Evil Angel movies to be known for "real female orgasms, anal domination, extreme fetishes, hand-picked casts."
According to Starr, "There are very few places that my particular style of work fits. I really feel at home at Evil Angel with the other perverts."
"Aiden is smart, tough and sexual in ways I rarely dare to think about," says Evil Angel founder John Stagliano. "She knows her way around a camera, pussy and asshole as well as anyone. I was working with her on Evil Angel Radio and I just wondered out loud to her why she wasn't directing. She told me she was and had a movie she was about to give me. Here it is."
"Pussy Whipped" will be released April 16 on DVD and VOD. Starr says her Evil Angel directing debut "sprang from the idea that if a girl loved you enough, she would do anything in bed that you wanted her to. This movie is about pushing the limits and popular conception of girl/girl sex and fem domination. Metal eggs are laid, tentacle strap-ons are brandished, dominatrices frighten submissives with their prolapsed assholes, and so on." Along with the Starr of the show, "Pussy Whipped" features Sarah Shevon, Arabelle Raphael, Bella Rossi, Dixie Comet, Ela Darling and Phoenix Askani. "I feel so lucky to know such beautiful, sexy women," the director comments.
Starr's casting choices don't just benefit viewers. "I'll be performing in most of my films," she reveals. "Having sex is still a big part of why I enjoy being a pornographer. I plan on living out my dream scenes." Titillatingly she adds, "I get really close to my performers while they're fucking. No one seems to mind that my tits press against them while I'm getting a good shot!"
Originally from New York City, Starr has been having sex on camera for about seven years and directing for the last two. She's appeared in hundreds of scenes, estimates she's directed "50 or so," and notes several pornographers that have influenced her: "I aspire to have the light, playful heart of Joey Silvera, the lush creativity of John Stagliano, the darkness of David Aaron Clark and the overt perversion of Jamie Gillis." But her initial erotic inspiration came from even closer to home — says Starr, "I started doing porn as a way to have sex with pretty girls."
All of her upcoming work will be seasoned by Starr's lusty attitude. For a tasty appetizer, the Pussy Whipped trailer can be viewed at EvilAngelVideo.com.