I have personally inspected this post for spelling and punctuation errors and have fixed every squiggly red line ….Thanks Mozilla…
1. This past year you re-upped with DP, What was the main reason why you came back?
I started my career with DP. I want to end my career as a DP girl; it's the best company with the best girls and it was the best decision for me.


2. Did you know anything about Manwin trying to buy DP when you were working out your new contract?
Yes I did, even though everyone was trying to deny it. I believe they weren't allowed to say anything, but I know people so I had an idea.
3. How do you think Manwin buying DP will affect future productions?? Have you seen a difference on set or with scripts?
I think it's great we will be able to shoot bigger productions and more of them. They are a great company with access to more fans and web traffic and I think this merger will be amazing.
4. Has a Lumberjack ever traveled 500 miles to give you his seed? Be honest.
LOL yes.
5. You just launched Diosa Tequilas, your own tequila brand, will we see product placement on DP sets?
I would love to have Diosa on the DP sets of course.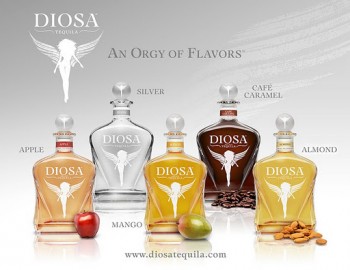 6. Great ideas for product placement..Use any idea you want free of charge:
A. You, Me and Kayden meet up at Exxxotica, We get Kayden drunk off Diosa Tequila then we take turns doing perverted things to her..When we are done we spread empty tequila bottles all around her… Oh and maybe a few pics to..
I love it, of course im in
7. I saw a interview from last year were you talked about "several branded products" . Can you tell me whats next??
Well, hopefully I'll be writing my book soon so we will see 🙂
8. What's the weirdest place you've been recognized?
At Toys R Us lol. I say that is definitely the weirdest place and the person was with their kids lol.
9. You're an AVN vet. What was the most notable difference between this year's and years past?
well I think the show is smaller, but the awards show is still great, there's a lot less companies around
10. I just looked thru 44,200,000 pictures of you.. Not one pic with you rockin' a bush. Why?
I hate bush, I love the bald look. I laser all of it off baby always bare and smooth
11. Would you perform oral on a chick with a bush? And what porn-star has a Jesse Jane approved bush?
I have and I didn't like it. If you have a small landing strip that's fine I like that, but not full on bush.
(She has obviously never seen Jessie Andrews bush. One of the greatest bushes ever)
12. What do you think about the new condom mandate?
I think it's stupid. We all should have the right to choose whether we want to use condoms or not especially since we are tested for all stds and aids every 30 days. Who are they to decide what we use on set
13. Do you think condoms will hurt porn sales? Or push the consumer to more amatuer stuff?
I think it will, yes. People don't like condoms, it's just a fact
14. How many times a week you work out, and whats your standard gym routine?
I work out around 4-5 times a week I use a trainer and we do different weight circuits, I box, and I do cardio.
15. What health supplements if any do you take?
I don't take any supplements.
16. Give me one track you can listen to over and over to keep your sweat going?
Porn Star Dancing by My Darkest Days

17. How many more years of Jesse Jane porn can we expect?
2-3 more years
18. Will there be MILF Jesse Jane one day?
I am a mile — already been one the whole time I've been in porn.
19. What's next after Mothers and Daughters?
Nurses 2, baby!
20. I once asked Kayden Kross, if you, she and Riley Steele were lost in the woods and one of you was gonna have to be eaten, who would it be? She answered and added she would slow roast that person over a open flame… Who would you pick?
Lol interesting question. They probably would eat me; there's more of me lol
Kayden refused to publicly say which one of her friends she would kill and eat, although she called and we decided eating Jesse would be the right thing to do..
Check out her website jessejane.com