In Pennsylvania, 556 active sex offenders of the 15,829 on the public registry — roughly 3.5 percent — were listed as noncompliant as of Saturday, meaning they have failed to check in with state police as required under Megan's Law.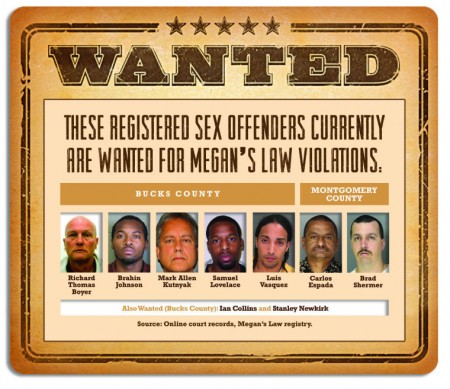 Pennsylvania State Police believe they know the whereabouts of roughly 97 percent of the registered sex offenders in the state, but the ones who want to avoid mandatory monitoring can go unnoticed for months.
Consider Mark Allen Kutnyak among the unnoticed.
He entered the home of a Montgomery County woman in 1994, sexually assaulted her while he strangled her and repeatedly slammed her head against a wall. He spent 30 months in a state prison for the crime and is classified as a high-risk sex offender.
When he was released in 2008, he moved to Bucks County. That's where Kutnyak's blip on the state's sex offender radar vanished, sometime in 2012.
But Tinicum police didn't find that out until May 2013, when the state police Megan's Law Unit asked the department to verify that Kutnyak was still living there, according to a criminal complaint.
Kutnyak hadn't lived at the Piperville address on file with state police since he was evicted in July 2012, Tinicum police found. Under the state's Megan's Law, registered sex offenders have three business days to notify state police about changes in home or work addresses.
But six months before state police asked Tinicum police to check on Kutnyak's whereabouts, court records show he was declared a fugitive in Bucks County Court after skipping a hearing on a theft charge. He remains missing as of Saturday night.
Read more on the sex offender registry and Megan's Law at TheIntell.com…