When EXXXOTICA, the nation's largest event dedicated to love and sex, returns to New Jersey this weekend to the NJ Convention and Expo Center in Edison for the seventh straight year, attendees can be sure to enjoy a stage schedule and seminar series that's sexy, fun and different. With over 30 hours over three days, EXXXOTICA's entertainment and seminar lineup has something for everyone – men, women and couples.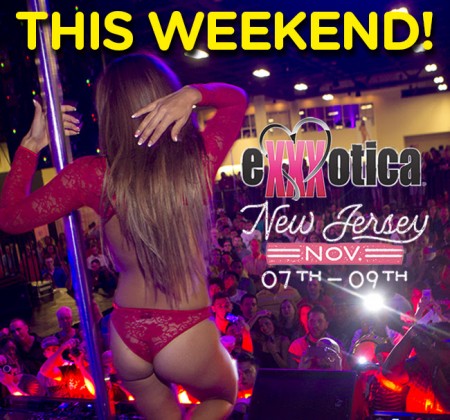 Many of the stage acts and seminars cater specifically to women and couples – perfect for Friday when ladies receive free admission to EXXXOTICA as part of "Ladies Free Friday," presented by http://ArrangementFinders.com. Female attendees will be able to enjoy sexy stage performances, including shows by a phenomenal male dance revue. They can also attend seminars on a variety of female-oriented seminars led by experts and stars with tips and tricks on enhancing their sex life. Educational instruction will also be given for those interested in entering the adult film and Internet industries. All women can register in advance and get free general admission and skip the lines by going to http://LadiesFreeFriday.com.
"EXXXOTICA prides itself on presenting our attendees with an incredible lineup of stage shows and seminars," said J. Handy, Director of EXXXOTICA. "Our goal each and every show is to make EXXXOTICA more than just a convention. We want it to be an event in a party-like atmosphere, that's not only sexy and fun, but different. We also want EXXXOTICA to be a destination for inquisitive people to find answers to their questions about romance and sex. Our seminars and stage shows always deliver on all fronts to do just that."
Seminar topics over the weekend run the gamut in the field of sexual education. Topics such as picking the perfect sex toy, the appeal of kink and taboo, and spicing up your sex life will be available over the three days of the show. There are also classes on webcamming for fun and profit, the world of cougars, and discreetly surfing the Internet for porn. The legendary Nina Hartley will offer daily discussions on enhancing your sex life as well as safety during intimacy, and jessica drake will present her seminars, "Guide to Wicked Sex," geared for women on Friday and all on Saturday. Other top names in adult such as Joanna Angel and Tanya Tate, and educators like Michael Fattorosi, Bo Blaze, Ducky DooLittle and many more will also give attendees an exclusive chance to learn more about sex. And let's not forget book readings and spoken word performances from superstars such as Ron Jeremy, Evan Stone, and Tera Patrick.
The EXXXOTICA Entertainment Stage is a major focal point of the show. The massive stage complete with video wall, array sound system and light show features hours of top-notch acts, shows and more. Each day will feature burlesque performances by superstars such as Tori Black, Tera Patrick, Allie Haze, Rubberdoll, Gia Nova taking questions from the audience.
EXXXOTICA wouldn't be complete without the always-sexy Ms. EXXXOTICA pageant where a new winner will be crowned, and there will be contests galore all weekend long, including trips to Hedonism. A new fan favorite is the EXXXOTICA International Twerk Competition, hosted by Veronica Rodriguez, along with special guest judges. The massive EXXXOTICA stage will be hosted by its official emcee Buster Cox and hall of fame adult star, Evan Stone, and featuring the always-entertaining DJ Geenius.
For a full event schedule, visit: http://nj.exxxoticaexpo.com/schedules.
It's just part of the best way to experience EXXXOTICA. VIP ticket holders also get tons of free swag, such as a custom tee shirt and bag, DVDs, toys and more, plus exclusive gifts and offers from dozens of exhibitors, and admission to the hottest after parties happening at Sapphire New York, Bourbon Street and EXXXOTICA's official host hotel, the Sheraton Edison. For more info on EXXXOTICA VIP Program, go to: http://nj.exxxoticaexpo.com/vip.
VIP and general admission tickets are on sale now at http://nj.exxxoticaexpo.com/tickets.
A complete schedule of all of EXXXOTICA's stage events and seminars is available at http://nj.exxxoticaexpo.com/schedules.
Exhibitors interested in securing booth space and sponsorship for EXXXOTICA can contact sales@3xevents.com or call (267) 909-9760.
Media interested in attending may apply for credentials by emailing pr@3xevents.com.
For all event info, visit http://www.eXXXoticaExpo.com.