Facebook has something against elbows — at least, elbows that somewhat resemble bare breasts.
That was the conclusion of a recent Facebook experiment perpetrated by the operators of the Theories of the Deep Understanding of Things (TOTDUOT) Tumblr set out to show the error of the social media giant's censor-happy ways.
In order to prove their point, the people behind the Tumblr posted a photo that showed a woman in a bathtub, her elbows propped up on the sudsy sides. However, at first glance, one of the elbows could be confused for the "giant left breast on a one-armed woman," as the Daily Dot writes.
Facebook only gave it the one glance.
On Sunday, within 24 hours of its posting, the photo was removed and an email was sent to TOTDUOT, notifying the group that their picture had violated the site's Statement of Rights and Responsibilities. In Article 3 (Safety), Section 7 of the code, Facebook states, "You will not post content that: is hate speech, threatening, or pornographic; incites violence; or contains nudity or graphic or gratuitous violence."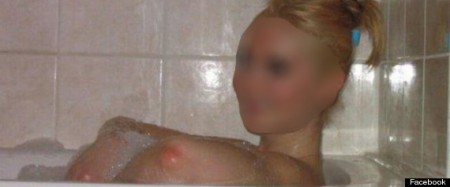 "FB moderators can't tell an elbow from a dangerous, filthy, uncanny and violent female breast," TOTDUOT wrote in response to the picture's removal. "No questions were asked the and the post is down > Imagine our surprise."
After Gawker wrote about the censoring on Monday, Facebook sent a statement to the site apologizing for the error.
Just wanted to reach out and let you know that we have restored the photo. We made a mistake and sent an apology to the original poster.
Facebook's Article 3 (Safety), Section 7 has provoked protest in the past, especially in regards to the censorship of photos of breastfeeding mothers.
In February, a small group of women conducted a "nurse-in" inside the building that houses Facebook's NYC office, demanding that the site stop taking down their breastfeeding shots, Metro notes.
"Facebook receives hundreds of thousands of reports every week, and as you might expect, occasionally we make a mistake and remove a piece of content we shouldn't," a Facebook representative told Metro at the time. "When this happens, we work quickly to address it by apologizing to the people affected and making any necessary changes to our processes to ensure the same type of mistakes do not continue to be made. We encourage people to re-upload the photos they believe were removed in error."