More than 30,000 women have had breast implants filled with industrial silicone instead of medical-grade fillers!
From Guardian World News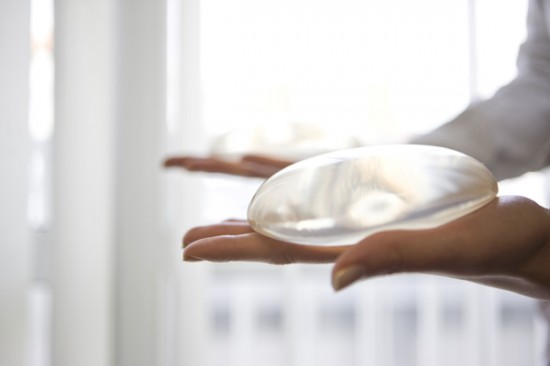 In a crowd of angry women shouting "We want justice!" outside the French health ministry, an ashen-faced factory worker hugged her anorak around her and fought back tears. Too shy to give her name, she didn't fit the stereotype too often slapped on the victims of France's biggest plastic-surgery scandal in decades. Tens of thousands of women complain that their lives are a living hell after being given faulty cheap implants made not from medical silicone but industrial silicone normally used for computer parts or the electronics industry.
"I've always suffered from depression and mental-health problems linked to body image," said the 48-year-old from Normandy. "I earn €1,000 [£840] a month in a factory. I couldn't afford breast surgery until my late 40s. But after the implants I felt better, I came off the antidepressants, I was able to face work. Then I find out the implants are poison. The tests say they're still in place but I'm having them removed anyway. I'm terrified they'll rupture or explode at any moment.
"I try to sleep on my back, if I sleep at all. Some people try to avoid extreme physical exercise for fear of damaging the implants, but I do hard labour on a factory line.
"I go to bed feeling bad, I wake up feeling bad. It's like living with a ticking bomb inside you."
Over the past 10 years more than 30,000 women in France, and thousands of others in countries including Spain and the UK, had breast augmentation with what have turned out to be potentially defective implants in what is now described as a cosmetic surgery horror story. The scandal has sent panic through France's vast plastic surgery industry.
The company Poly Implant Prosthesis (PIP), based in the south of France, was one of the world's leaders in silicone implant production until last year when it was found to have been cutting corners and saving an estimated €1bn (£840m) a year by using industrial silicone instead of medical-grade fillers in their breast implants. The casing around the filling was also faulty and prone to rupture or leakage. The company has closed and more than 2,000 women have filed legal complaints. A judicial investigation has begun for involuntary homicide over a woman who died from cancer.
The French government recently identified four known cases of cancer in women who have had the implants, two of whom have died, although they have not established a link between the implants and cancer.
But on Wednesday French women who had PIP implants staged their first street demonstration outside the French health ministry, saying the state had not done enough. They believe the government should pay for all implant removals. "We're sick of being dismissed as bimbos," said one woman in the crowd who had PIP implants after breast removal from cancer. Many said they felt dismissed as vain or had themselves to blame. Most were on low incomes, had taken out loans for the initial surgery and were struggling to pay for removals.
"There has been a wave of panic," said Alexandra Blachere, an ex-waitress from eastern France, who had breast augmentation following three pregnancies. She now heads an association for women with faulty implants.
Sylvie, 57, who once ran a children's clothing business outside Paris, said: "The implant had leaked to such an extent I had four swellings hanging from my armpits which were full of silicone gel, and had to be drained." She had PIP implants for seven years after reconstruction surgery following breast cancer. "Last year I found out the implants were defective but I was having chemotherapy at the time so I couldn't have them removed immediately. It's as if a foreign element is poisoning your body as well as the cancer. If you think about it too much, you'd suffocate. You have to have a mentality of steel to survive."
"I breastfed for eight months with these implants in place – at what risk to my child?" asked Audrey, 32, a childminder from the Côte d'Azur. She said: "Flat-chested, I never felt like a woman. After the implants, I felt transformed. When I saw the TV reports of faulty implants, I went to have them removed. Tests had shown mine had not ruptured or leaked, but during surgery the doctor found they were in fact leaking."
France's cosmetics and plastic surgery industry is among the biggest in Europe. Between 400,000 and 500,000 women in France have breast implants.
An estimated 21,000 breast augmentations are carried out each year – the most popular operation after liposuction and anti-wrinkle procedures. A study in 2009 found that although French women are the slimmest in western Europe, they also have the biggest complexes about their bodies and the toughest standards on weight.
Surgeons say the number of breast operations has fallen since the scandal. The French authorities, like the British, say that women with the PIP implants should be tested regularly for ruptures or leakages.
This year the UK healthcare regulator said there was no evidence of potential for cancer or chemical toxicity from the filling in the PIP implants. But some French doctors now say that even non-ruptured implants should be removed as a precaution.
Dominique Poitou, who worked for a car-hire firm outside Paris, was about to have her one implant removed from a breast reconstructed after cancer surgery. "It's very hard to rebuild my life. We feel judged, we feel that we're not taken seriously because it's linked to cosmetic surgery. That's unfair. This scandal is criminal. You wouldn't implant this type of material into animals, let alone women."