From March 30-April 1, Free Speech Coalition CEO Diane Duke and Membership Director Joanne Cachapero will attend the International Lingerie Show (ILS), in Las Vegas. As a favorite show for the pleasure product industry, ILS offers many opportunities to network with FSC members and meet with business owners.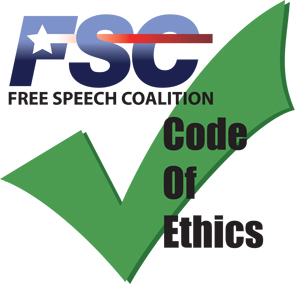 FSC will be raising awareness of its new Code of Ethics program. The program features a seal of approval; when displayed at a place of business, on websites or packaging, or in a content clip, it says that your company adheres to a code of standards and better business practices.
 "The Code of Ethics program offers an opportunity for members to sign onto business practices and standards that display a high level of business ethics to adult consumers, as well as clients and colleagues," FSC CEO Diane Duke said. "When you display the CoE emblem, it means you've made a commitment to providing the best customer experience possible."

If you have any questions about the FSC Code of Ethics program, other questions or would like to make an appointment to meet with FSC in Las Vegas, please contact (818) 348-9373 or Joanne@freespeechcoalition.com.