HOLLYWOOD — The Free Speech Coalition honored an accomplished group of adult industry innovators and leaders on Wednesday evening at the 2014 FSC Awards cocktail reception at the W Hotel in conjunction with the XBIZ 360 events series.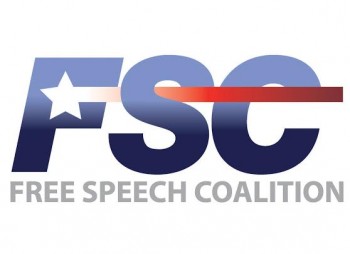 The awards ceremony was held in the hotel's plush and spacious lobby, closed off to the general public, and with an attending crowd of about 150. As the honorees made their speeches, the key themes of industry innovation and unity kept, quite organically, cropping up.
FSC chairman Jeffrey Douglas was this year's master of ceremonies, kicking off the festivities at about half past 6 p.m., and immediately expressing his appreciation of this relatively brief (at under 90 minutes) but passionate annual event. "This is one of the more pleasant evenings of the year for all of us," he stated, "especially for me when I get to be the MC because I get to bring to your attention some of the people who've made such an enormous difference to our industry: both the award recipients and the people who will be giving the awards tonight."
The actual awards presentation began with Evil Angel General Manager and FSC board member Christian Mann honoring porn star (and now a director at Evil Angel) James Deen with The Positive Image Award, given to performers who've helped quell negative stereotypes and misconceptions connected to the adult industry.
"Someone accused (James) of being a media whore," the typically light-hearted Mann saidd. "But an argument can be made that in doing that, in being a media whore, James has also been a terrific ambassador and representative for our industry.
"I've had the pleasure," Mann added, "of working with James in tandem with the Free Speech Coalition and I want to tell you, this is a guy who cares about our industry. He's in for the long haul. He's never going to abandon us."
One of the few, if only, attendees to don a traditional, full-fledged tuxedo, Deen graciously accepted the award with his a characteristically short, modest, and, admittedly, unprepared speech.
"Thank you to everyone in the adult film industry that gives me reason to say all of the things I say and validates all of my positive comments. It's very nice to see on a daily basis that when I say, 'We look out for each other' and 'We care for each other' and 'There's a community and a support system' and things like that that it gets constantly reaffirmed… confirmed… words… Thank you. I'm gonna leave now."
Next up, two back-to-back trophies were presented: The Man of the Year and Woman of the Year Awards, given to business professionals who've exhibited leadership in creating solid businesses in their communities. Eldorado Trading Company founder/CEO and FSC board member, Larry Garland, presented this year's Man of the Year Award to Pipedream's Nick Orlandino and Woman of the Year Award to Honey's Place owner Bonnie Feingold.
"I have the distinct honor of presenting this award to a man whom I've known for decades, ever since he was more of a boy than a man," Garland said of Orlandino. "And I think this is the only award he hasn't won yet."
A member of FSC for more than 20 years, as well as having previously served on the Coalition's Board of Directors, Orlandino was visibly gratified by the honor. "I believe in what the FSC does," he impressed during his short but potent speech. "It's really important to all of us. And, let me tell you, without them, we probably wouldn't be here right now. So I want to say 'thank you' to Free Speech, thank you to the industry, and I love you all."
The presentation of the Woman of the Year Award to Bonnie Feingold was slightly more involved. As Susan Colvin—California Exotic Novelties founder and a close personal friend of Feingold's—could not attend, a brief video message from Colvin was shown. During the video, Colvin sincerely stated how impressed she was to witness Feingold over the years take over Honey's Place from Bonnie's very ill, now deceased, mother, who was the company's founder.
"You jumped in there with both feet," Colvin said. "You worked 120 hours a week, moved the company, and turned it into the vibrant (business) that it is today. Every year you do something new: You stay up with the times. Your mother would be so proud of you. I am proud and I know everyone else is, too. You're an incredible woman. Congratulations."
After Colvin's introduction itself received a loud round of applause, Ron Braverman of Doc Johnson adult-toy company fame—as well as having been FSC's original treasurer and one of its founders—finally presented the award to Feingold.
"A lot of the people who came into the business around that time that Bonnie did," Braverman emphasized, "didn't understand the purpose of Free Speech. They didn't understand some of the battles that we went through. But, Bonnie, one of the things everyone in this room should thank you for is remembering the commitment to Free Speech, the commitment that you've made, and the commitment that you've continued with—and we all thank you for it."
Once up on stage with her award, Feingold gave a heartfelt speech: "Growing up with my mother in the industry and seeing the battles that other people fought. I understand the importance of the FSC, and I've always been a supporter ever since I joined the industry. When I came into the industry, I just knew Ron… Susan… and a few others. But the support I got was amazing. They gave me an opportunity to prove myself. Everybody did. And that's why I really love this industry and what it does. It really is truly a community."
Bob Christian, the general manager of Adam and Eve and current treasurer of the FSC Board, presented the Pleasure Products Company of the Year Award to California Exotic Novelties. The award, he stated, is presented to the pleasure products company exhibiting "unwavering innovation and excellence" while also practicing their business with "high ethical standards and integrity."
Christian further cited that the female-owned and –operated California Exotic Novelties "has (not only) utilized their female expertise to make its mark in the pleasure products industry," but the company has also been "exemplary in its community service and outreach." One example he noted regarding such service was the Cal Exotics team raising more than $36,000 last November for The Walk of Hope to benefit women's cancer treatment and research. Christian also pointed out that when Measure B (the Los Angeles County law, imposing the mandatory use of condoms on all adult-film sets) was passed last year, Cal Exotics was the first adult company to step forward and offer a donation to help fund the litigation to fight the "onerous law."
"Cal Exotics," Christian said, "is a perfect example of a successful business that gives back to its community and supports and advocates for the rights of people in the industry."
Accepting Novelty Company of the Year Award on behalf of its CEO Susan Colvin was Al Bloom, director of marketing for California Exotics. In his acceptance speech, Bloom informed everyone that Colvin was visiting China, ergo her absence: "As you all know, Susan and California Exotics has been a consistent support of the FSC since its inception, and I can swear to that, because I was there. If Susan were her tonight, she would simply say, 'Thank you, Free Speech Coalition. Keep up the good work.'"
Retailer of the Year Award went to Lion's Den chain of adult stores for its many years as a leading retailer of adult products, innovative marketing and ethical standards for customer service. Joel Kaminsky, CEO of Good Vibrations sex shops, as well as FSC board member, presented the award to Lion's Den.
"There are three different types of people in the world: those who makes things happen, those who watch things happen and those who wonder what happened," Kaminsky said. "And Lion's Den has always been there to make things happen when it comes down to the legal fronts of this industry and protecting the freedoms which should just naturally be afforded to us. 'No' is not in their vocabulary.
Kaminski noted how Lion's Den fought against injustices levied against strip clubs in the past, as well as heroically stood their ground against billboard legislation and zoning restrictions.
Mike Moran, the company's CEO, was not present since he had "moved South for the winter," according to Lion's Den Senior Vice President, Mark Miller, who accepted the award.
"Mike certainly wanted to pass on his thanks on behalf of himself and the entire Moran family," Miller said. "He used the words 'humbled' and 'honored' to describe how he felt about receiving this (award). He wanted to make everyone know how important it is to him, the efforts of the Free Speech Coalition and the ASACP (Association of Sites Advocating Child Protection). They've meant the world to Mike over the years. And continue to fight for their causes."
Miller then looked out into the crowd and said: "I see most of you are product partners, both novelty and video. Without the stuff that you bring to us, we wouldn't have the success that we have."
He finally thanked Lion's Den corporate staff and its approximately 300 store employees, labeling them the most important people in their company because, "They're out there touching our customers every day."
Production Company of the Year Award went to gay studio, Hot House Entertainment, founded by Steven Scarborough, who accepted the award, presented to him by attorney Karen Tynan.
Said Tynan: "Hot House was a leader in Sacramento and San Francisco against AB 332 (the statewide bill which would require condom use on adult-film sets), Steven rallied the troops and we made great headway in Sacramento. He called in personal favors to get us meetings with legislators and legislative aids. Hot House made it happen."
Upon accepting his award, Scarborough stated how humbled he was, while also impressing upon the crowd the importance of the adult industry's stepping fighting laws created to limit their freedoms.
"I just want to say to everybody in the room: You can make a difference… We all have to do the work."
Scarborough received a roaring round of applause when he stated that Hot House was able to kill AB 332 in the appropriations committee, but similarly warned that the industry must still be vigilant, visible, and unified.
"I'd like to say that the fight is over," Scarborough added "but it's not. They're coming back at it again. So, please, when we call you and ask you to show up in Sacramento, please show up, because when they saw our faces, it made a difference. We need to put a face on the industry in front of the legislators. Thank you very much for the award. I appreciate it."
San Francisco's Gamelink, one of the premier online adult stores, won Internet Company of the Year Award, presented by Tim Valenti, another former officer of the FSC and the CEO/founder of Naked Sword.
"This is a company of firsts," said Valenti. "They're always first. There's always innovation (at Gamelink)—and especially if you listen to the man who's behind this company… And, believe me, I listen."
And it was, indeed, the man behind the company, Ilan Bunimovitz, Gamelink's founder, who graciously accepted the trophy with no small degree of modesty. "This really belongs to all of the employees of Gamelink. We've been at it for over 20 years. To survive, you need to continue to innovate, and that's what we try to do."
FSC's CEO Diane Duke presented the Benefactor of the Year Award to Wicked Pictures' founder and president, Steve Orenstein. The Benefactor Award recognizes the unwavering support, through philanthropy and advocacy, of adult and mainstream causes.
Duke cited Team Wicked's philanthropic achievements throughout this past year, including raising more than $20,000 for The AIDS Walk LA, as well as promoting healthy sexuality workshops and, in the past, generously donating to 2257 litigation efforts. She also emphasized the importance of Wicked's in the face of Measure B.
'When we had our Measure B panel here last year," she pointed out, "Steve was one of the first people who, side-by-side with Susan Colvin, stepped up and said, 'I want to help fund the litigation for Measure B.'"
Orenstein began his speech in jest—"Thank you, everyone can go home now"—but then got more serious. "Free Speech always takes the heat for everything. There's nothing that you do in that organization that comes with a congratulations and a thank you. It's always a fight, and everyone complains that you didn't do it the way that would make them happy. We are happy to help Free Speech. Thank you."
The final trophy of the night the Legacy Award—recognizing innovation, successful business practices, and contributions to the industry as a whole—which was given to Vivid Entertainment founder Steve Hirsch, as presented by his close friends (for 30 years) Christian Mann and AVN founder Paul Fishbein.
Noted Fishbein: "Steve's legacy, frankly, is still being written."
Christian Mann then casually added: "I remember once asking Steven, 'If you could be described in one word, what would that be?' And I really thought that he was going to say 'successful' or 'driven'… maybe even 'rich.' But his answer was something different, and it tells a little something about Steven Hirsch, because he said 'decent.'
"Steve is a guy who's told me things like 'The secret to longevity in this business is to be a stand-up guy… The secret to making a deal is to make sure that both sides derive value and leave something on the table for the other side. Do the right thing—and they'll come back for more.' The legacy that Steven Hirsch is going to pass on, isn't just about the success of himself or Vivid Entertainment. It's a legacy of, as he said, decency, honesty, and integrity."
Before Hirsch accepted his Legacy Award, a short but fast-paced, dynamic video highlighting the various milestones of Vivid's now 30-year history was shown. The video rapidly covered Vivid's first-ever production, "Ginger" (starring Ginger Lynn), which cost Hirsch $20,000 back in the early '80s, as well as how Vivid was the first XXX company to sign performers to long-term contracts and its popular emergence of celebrity sex tapes. As Hirsch himself stated in the video, among many quotes from the powerhouse of a businessman, "It's important for us to focus on future technology, continue to exploit and expand our brand. And if we're able to do that I think we can stay one step ahead."
With a fantastic lead-in care of Christian Mann, Hirsch gave one of the evening's most inspiring, moving speeches, which sealed the night's continuing theme of innovation and unity.
"I've never been more excited about Vivid and our industry than I am today," Hirsch energetically beamed. "Our industry is changing, there's no doubt about it. … And I think if there's one thing that the Internet has shown us, it's that there is a huge, massive audience for our products, for our movies. So I think what's important is that the industry is full of smart, innovative, creative people. Those are the guys who are going to survive. That could be all of us—and it should be all of us.
"Every single day, I try to do the right thing for our company, and I try to do the right thing for our industry. And I believe although there may be challenges ahead, challenges from the outside, and we've seen them all over the years, whether it's legal or government or piracy or DVD decline, whatever it is…. and we've seen also the evil that sort of lurks within… But I believe that if we, together as an industry, do the right thing, handle ourselves properly, respect the people that we work with, and the people that work for us, that we'll all be around for a very long time."
The FSC Awards winners:
Legacy Award – Steven Hirsch, Vivid Entertainment
Positive Image Award – James Deen
Man of the Year and Woman of the Year – Nick Orlandino (Pipedream) and Bonnie Feingold (Honey's Place)
Novelty Company of the Year – California Exotic Novelties
Production Company of the Year – Hot House Entertainment
Retailer of the Year – Lion's Den
Internet Company of the Year – Gamelink
Benefactor of the Year – Wicked Pictures
Source XBIZ