Girlfriends Films has reached another milestone as the top producer of lesbian erotica – the release of the 50
th
volume of "Lesbian Seductions Older / Younger." The generational love series is the second most prolific series from Girlfriends Films, after "Women Seeking Women," which surpassed 100 volumes in December 2013.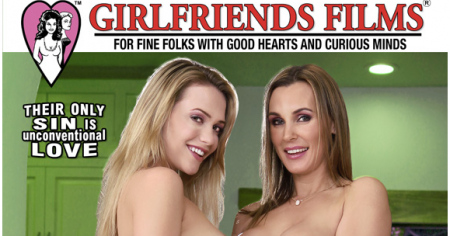 "Lesbian Seductions Older / Younger: Volume 50" is now available to own on DVD. To view the box art, production stills, and trailer for "Lesbian Seductions Older / Younger: Volume 50," click here.
The long-running series draws on sexual temptation and seduction, while giving fans provocative scenes and pairings between women separated by years, but brought together by lust. Each of the four scenes excites viewers as a predator moves in on her prey. For the horny women of "Lesbian Seductions," their only sin is unconventional love.
Volume 50 features cover girls Tanya Tate and Mia Malkova, as well as India Summer, Laela Pryce, Mercede Carrera, Emy Reyes, Misty Rain, and Alice March.
The first volume of the series released almost 10 years ago, in August 2005. AVN Media Network's Donna Shapiro reviewed Volume 1, writing "We really enjoyed the genuine sensual nature of this release…True lesbian passion is hard to find in porn, and this meets the mark!"
"Thank you to all the fans and critics who saw something special in this series ten years ago and have supported it ever since," says Girlfriends Films President Moose. "We are looking forward to creating even more engaging stories and hot sex scenes in the next 50 volumes."
"Lesbian Seductions" is one of the most acclaimed series in adult entertainment, receiving XBIZ's 2013 All-Girl Series of the Year award. Each year its volumes are nominated for awards in all-girl categories, as well as older/younger categories.
Filmed in high definition with 3 Sony XDCAM cameras, "Lesbian Seductions Older / Younger: Volume 50" is a visual treat. Volume 50 includes a XXX and glamour photo gallery, plus trailers to hit Girlfriends Films movies. The movie is presented in a 16:9 widescreen format.