(Montreal, QC) — Adult Time announces the release of Maid for Each Other, a brand-new Girlsway Original Mini-Series that's sweeping up excitement with the lesbian erotica studio's biggest fans.
The new series marks the directorial debut of adult performer Casey Calvert for the studio. Calvert – along with Maid for Each Other co-director Eli Cross – was recently named one of Gamma Entertainment's newest directors to add fresh content to the just-launched Adult Time platform.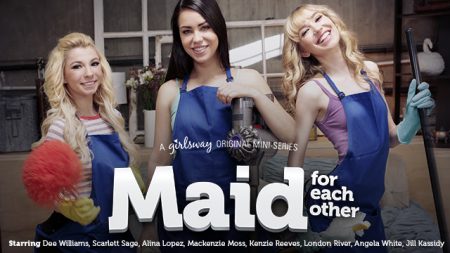 "I am excited and honored to be directing for Gamma Films… they are a great company and their collection of sites under the Adult Time banner is some of the most interesting porn content being created today," said Calvert. "I always enjoy performing in high-end girl/girl scenes, and now, getting to direct them for Girlsway is a lot of fun!
The first Maid for Each Other episode 'Office Cleaning' – an after-hours office romp that stars Scarlett Sage as a sexy 'cleaning lady' who instantly catches the eye and distracts busy executive Dee Williams (in her Girlsway Model Debut) – is available starting today at https://www.girlsway.com/en/maid-for-each-other.
"We are extremely proud to bring Casey Calvert on board as a director for Gamma Films," said the studio's Head of Production Bree Mills, who added that Calvert has been a fan favorite at Mills' Girlsway, Pure Taboo and Fantasy Massage channels since coming on board in 2015.
"She has already been a close collaborator of ours for years in front of the cameras, but she also brings a wealth of experience in writing, directing and producing from her own independent adult and mainstream projects.  I'm excited to see what she will bring to the table!"
Calvert says she is equally excited about her new venture in the director's chair: "I want to thank Bree Mills and the whole team at Gamma for the opportunity to add directing to my resume… with this series, we've been having fun playing with the trope of the naughty maid in really unique ways. We've created some super fun scenes, and I think the Girlsway fans will love them!"
Upcoming Maid for Each Other episodes in April include 'Nasty Cleaning Crew', starring Alina Lopez, Mackenzie Moss, Kenzie Reeves and London River (out April 18), and 'My M.A.I.D.D.', starring Angela White and Jill Kassidy (out April 25).
Girlsway is now accessible to all members of Gamma Films studios' sites, as well as the new Adult Time platform. Those interested in sneaking a peek or purchasing the series can sign up and subscribe to Adult Time's entire catalog of award-winning content, giving its members access to over 50,000 scenes within the Gamma Films studio network. Follow @Adulttimecom on Twitter for more info and production news.