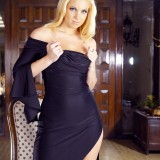 The first time i ever remember seeing Hollie Stevens was 3 years ago on twitter..Her avatar was her sitting on the toilet..I tweeted her but she never followed me…After 3 years of therapy i once again reached out to her, this is her story..Some names an events have been changed to protect the innocent…
1. How long have you been in porn?
I've been in for a little over 8 years
2. In the porn world what are you most well known for?
Well, I've don't know that there's anything that I'm known best for. Being in porn for so long, I've pretty much shot just about any porn you could imagine. Except for anal. I never really got into doing any anal scenes. I think I've shot 4 the entire time I've been in the business. My favorite kinda stuff to shoot is BDSM, but I also have a cult following for the clown stuff that I do. With that, I'm known as the queen of clown porn. I'm serious. Just google queen of clown porn.
3. Recently you were diagnosed with cancer, can you tell the 10 million readers on my site what type and the treatment your undergoing?
I've been diagnosed with breast cancer in my left breast. I don't know what stage it is. I know it's not a 4 though. When I was diagnosed, the doctor was throwing so much information at me that it was hard to take it all in at once or even try to remember.
The treatment, 8 cycles of chemo (which I just completed yesterday), followed by surgery. I'll be getting a mastectomy. After that, I'll be going in for radiation and then I'll be dealing with re-constructive. It's quite the process.
4. Is it true that you actually found the lump several months before but due to lack of health coverage you didn't seek medical treatment?
Yes and no. It was also found the day before I was about to leave for a 2 month road trip. I didn't really take it seriously though, and I just got out of a bad relationship so I needed this vacation before I'd lose my mind. By the time I got back it was Halloween, then trying to get back into the swing of things again at home, work, Thanksgiving, then I got a staff infection that had to operated on (I found out later it was related with the cancer) then Christmas, New Years, my birthday, AVN, and back to work again.
On my birthday, I was given a new birth control shot. I was watching my lump the entire time and assumed that if I would have had cancer for this long that I would have been sick or dead already so I still didn't take it seriously. After that birth control shot my lump grew at an alarming rate. When I spoke to my doctor later about it, I found out that it was the hormones in the shot that did it.
I decided to finally go to the doctor when my left breast looked obviously larger than the other and it hurt a lot. I mean, it had pretty much been hurting ever since it had been discovered, but with it swollen that much, it was excruciating. I was still trying to sub during that time too. I can't believe I did that to myself, but then again, I needed the money. I knew I had to go to the doctor soon, but I didn't know if I'd be able to work for a while after this. I obviously needed surgery. And I didn't have insurance. So what else was I supposed to do?
5. Do you think with health coverage you would have went for regular mammograms?
Oh yeah, without a doubt.
6. Once all the treatments are finished whats next as far as your hooters are concerned?
I'm getting a mastectomy, then radiation, followed by re-constructive.
7. Do you have a opinion on APHSS?
I don't know, I mean being tested in all is fine. I mean, It's actually a great think to be doing, but what after that? What if you need real medical attention? What really can they offer you? What can they even suggest for you? It's just extremely limited. There's always a lot of holes even as far as the testing goes.
8. Do you think we will ever see a day when a group plan is in effect for for porn talent?
I honestly don't know. Porn is extremely unorganized or the people making money off of it just don't really care about the performers. Which is kinda bullshit since we're the people lining their pockets. I think the performers themselves would have to get together to put a plan like this into effect. I've always heard talk about doing something like this, but I honestly don't know. Would be amazing if it was though.
9. What if people wanna help you with costs? is there a link they can go to to make a donation?
There was one on GiveForward.com but it was taken down. Hopefully a new one will be up soon. Just search my name on the site and see if anything pops up. Also, if anyone would just like to send a gift, they can go to my wish list
10. If you could have sex with 1 person besides me, who would it be? It has to be someone you haven't been with.
There's no one that I could really think of. There was this one really hot bartender who worked at the Beauty Bar in San Francisco, but he moved to Columbia so I don't ever see that happening.
11. Before I wrote out these questions, I researched your vagina. Not a pubic hair in site. Will there ever be a full bush Hollie for my enjoyment?
Never full, only semi.
12. When will we see a Hollie Stevens website instead of just a blog?
I honestly don't know. A web site is more of a pain in the ass to me than a blog.
13. Have you ever been involved in a freak gasoline fight accident?
No however, I remember ages ago on the 4th of July, my cousins and I were blowing shit up on my aunts farm while our parents were all hanging out getting drunk. We decided to throw a bunch of Black Cats into one of the metal trash cans not knowing that my aunt had thrown a bunch of spray paint cans in earlier. Needless to say, a giant fireball shot out of the trash can and nailed the tree that was hanging over it and some of the tree went up in flames. That was kind of a freak paint explosives accident I suppose.
We will update this blog with the new donation link as soon as we get it..we will also tweet it
Check out Hollie Stevens wiki page