Some of the most powerful anti porn and mandatory condom usage groups in America, AHF, Pink Cross and the DSM-IV spent the better part of last week and weekend asking people to show and protest one of Porn's greatest names and true American hero, Larry Flynt.
It seems that almost everyone who hates porn and wants mandatory condoms used on all porn sets showed to lend their support, well except the people calling for the protest. I'm pretty sure Flynt's people knew he was done for it based on the large crowd of 5 or 6 people who rallied to speak out against what some might call a Porn and Free speech super hero.
In other anti porn news, Shelley Lubben and The Pink Cross announce they have saved another life…
They have sent giftcards and scarfs to the victim and are in the process of moving the dog to a recovery house. Please donate to the pink cross.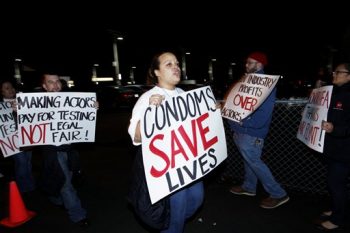 The photo taken by AP Images for AIDS Healthcare Foundation, advocates from AHF bestowed the 'SkinFlynt' Award on porn mogul Larry Flynt at a protest at the XBIZ Adult Film Awards on Tuesday Jan 10, 2012 in Santa Monica Calif. The protest came after an historic vote by L.A. City Counsel to adopt an ordinance requiring porn producers to use condoms in their films as a condition of getting a film permit from the city and Flynt's refusal to follow California laws requiring condom use in porn. (Joe Kohen/AP Images for AIDS Healthcare Foundation)