Police arrested Pasadena City College's infamous "Porn Professor" on suspicion of driving under the influence after the car he was driving collided with another vehicle in San Benito County.
Hugo Schwyzer, who was arrested Friday, has been charged with felony driving under the influence with special circumstances of causing injury to another person, according to Sgt. Brian Lepore of the San Benito County Sheriff's Department. Schwyzer is out on bail and scheduled to appear in San Benito County court on Nov 5.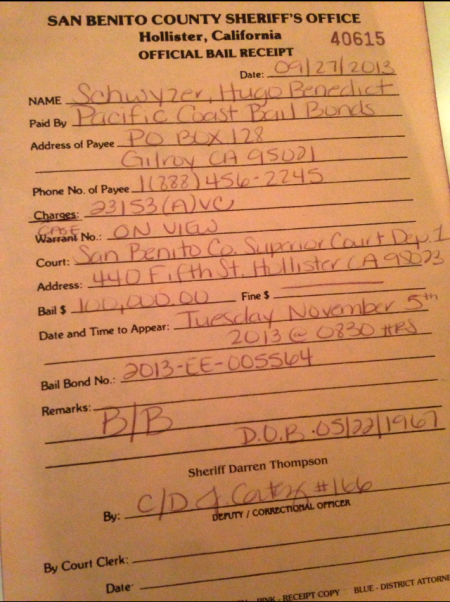 Schwyzer posted on his blog Monday that he was "under the influence of 6 milligrams of Klonopin" and said the young woman he hit while driving with his mother was airlifted from the scene with injuries.
"I am at this time reluctant to allow a lawyer to plea bargain anything down," Schwyzer wrote. "When a man drives under the influence and hurts someone, he should pay the penalty."
Schwyzer posted on Facebook later Monday that he had deleted the blog post for legal reasons. He also posted a request on Facebook for recommendations for criminal defense attorneys. He said he would no longer drive his car and had again entered a partial hospitalization program in Monterey.
"I handed my mom my driver's license even before the courts take it away from me in a few weeks. I am a danger to myself and others and mitigating that danger is vital," Schwyzer wrote on Facebook.
During the spring semester at PCC, Schwyzer he invited several adult film actors to speak to a class titled "Navigating Pornography." Last month, Schwyzer admitted on his blog that he had been routinely sleeping with students, even sometimes in his PCC office. He said he plans to go on disability retirement starting Jan. 1 and will not teach at PCC or any other school again.
Officials at PCC are investigating Schwyzer's claims of sleeping with his students, which is against a college policy that Schwyzer helped develop.
Hugo Schwyzer Comes Clean on Suicide, Cheating, and Being "a First-Rate Fraud" UPDATED The TRPWL Interview