For the "most hated man on the Internet," stretching the truth is part of the job description.
According to Salon, shock entrepreneur and Is Anyone Up? founder Hunter Moore has backed off his claims that his new website will allow scorned ex-lovers to post their former partners' addresses in addition to their naked photos and social media accounts.
On Saturday, Moore told Salon's Tracy-Clark Flory that he was "drunk and coked out" for his interview with BetaBeat's Jessica Roy, where he initially made the boast. In the interview, Moore gave more details on HunterMoore.tv, the new site that he began touting in August as the "scariest on the Internet." It is here he teased the new, invasive twist on his "revenge porn" concept — posting addresses of site victims, leaving them open to stalking.
However, Moore told Salon the mapping innovation was a "semi-lie" — he plans to post the addresses only of people who have personally wronged him. Moore confirmed that statement in a phone interview with The Huffington Post.
Moore has told the press that the IAU archives will make a return on his new site, leaving many who thought their nude photos were scrubbed from the Internet worried once again.
For the self-proclaimed "professional life-ruiner," every business venture is rife with controversy and the venom of his most vocal detractors. One is Bullyville founder James McGibney, who is already filing a lawsuit against Moore for publicly calling McGibney a "pedophile" and threatening to rape his wife. The case has currently gone into default. The anti-bullying site bought IAU in an attempt to halt the site from continuing, but the partnership was short-lived.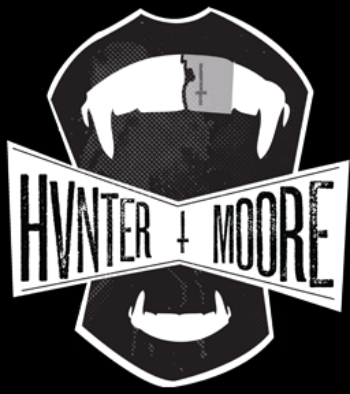 McGibney, the former Marine turned Internet activist and entrepreneur, told HuffPost that the only real transfer between the two was the domain name. While McGibney wanted to secure the content of IAU he was not able to do so, he said. And even though the two had an agreement that IAU content would not be published again after the site's ownership transfer, McGibney said, that hasn't stopped Moore.
"Per the deal, we just took over the domain. We never transferred the data, never touched the data," McGibney said in a phone interview with HuffPost. "We had an agreement in place, but Hunter could care less about agreements — haven't you heard?"
"The threats on my family were bad, but the worst thing that Hunter could have done was come back out with this site," McGibney said. "He claims the interview was misconstrued in a coke-induced rage, but he'd told me about this address plan when we shut it down originally."
Moore has always defended himself from legal responsibility over the controversial content of his site through Section 230 of the Communications Decency Act. Since all content is submitted by users, Moore maintains immunity as users sign a contract assuming legal consequences for their submissions. The Awl reported in 2011 that Moore was making upwards of $13,000 a month running IAU, in addition to parties he hosts under the name.
"Congress must do something about this nasty trend we call revenge porn," Catherine Laws, the private investigator who got the FBI involved with Moore, told HuffPost in an email. "And I plan to meet with two Congressional representatives in January in an effort to get the ball rolling." Laws started her crusade against Moore after her 25-year-old daughter was featured on IAU.
Moore has also found a new enemy in the hacktivist collective Anonymous, which on Sunday announced #OpHuntHunter, a campaign to "hold Hunter Moore accountable for his actions." Hunter has dismissed the threat, claiming it's a ploy by McGibney.
Two Anonymous members, @KYAnonymous and @jackherer20, have since told Betabeat that they are are responsible for #OpHuntHunter.
Moore told HuffPost that he isn't worried about anything Anonymous can do to him. "My whole life is public anyway," he said. "They're just f***ing nerds."
Moore doesn't seem to have any intention of slowing down, even tweeting that a death from his new site would be good for his traffic.
"My community is so much bigger and stronger than it was before, and I've got so much more money," Moore told HuffPost. "I'm just going to make sure that these people that threaten me or talk sh*t or take any kind of legal action will be dealt with. I'm going to mess with their jobs and mess with their livelihoods, like they try to do to me. Only difference is I'll succeed."