Gay romance studio Icon Male's chart-topping series, "Fathers & Sons" continues with it's 3rd volume. From Mile High Media and award-winning director Nica Noelle, "Fathers & Sons Vol. 3" presents the ultimate family drama, two sons lusting after the others father. Nick Capra returns in his reprised role as a father with sordid yearnings brought to light by young Armond Rizzo. The star-studded cast also includes seductive son Kory Houston, striking professor Rodney Steele, and newcomer Tony Salerno.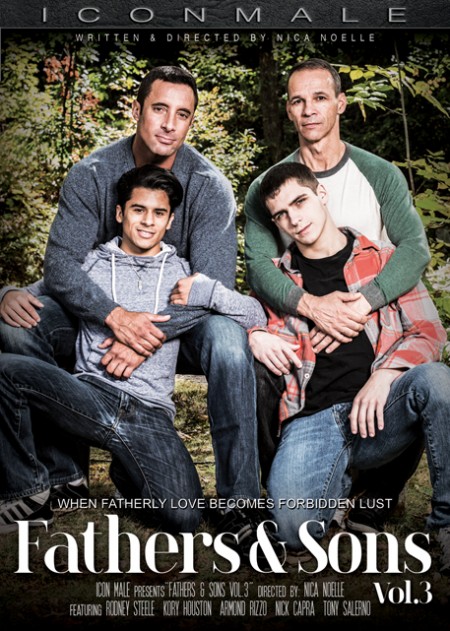 To view the box art and for more information on "Fathers & Sons Vol. 3" visit: http://www.milehighonline.com/product/movie/3337
"I love the chemistry between the guys in Fathers & Sons 3 and the great variety of older/younger scenes," says Nica Noelle. "Having Armond Rizzo on board was definitely a huge coup, as he's one of the best young performers out there, and he brought so much to the table. Besides having one of the most beautiful bodies in the industry, Armond really puts everything into his sex scenes and acting performances. He would actually ask for additional takes if he wasn't happy with how he delivered a line."
"Fans have really responded to this series because of its overtones of forbidden sex contrasted with fatherly nurturing. We're lucky to work with the kind of performers who can bring that theme to life in way that feels touching and real, rather than sleazy and campy."
When sultry young Joey (Kory Houston) gets suspended from school, neglectful dad Danny (Nick Capra) feels obligated to give his troubled teen some extra father-son time. The two set out for a trip to the mountains, where they encounter Danny's old college teacher, Professor Lewis (Rodney Steele) and his son Romeo (Armond Rizzo). While sensitive Joey bonds with the soft spoken, mature Professor, lusty young Romeo zeroes in on charismatic Danny. Can the two young men fill their deep-seated voids with each other's Dads? Starring Nick Capra, Rodney Steele, Armond Rizzo, Tony Salerno and Kory Houston.
The latest Icon Male trailers can be seen on www.Iconmale.com.
As an innovator in gay erotica Icon Male recently received Cybersocket's 2016 Best New Site Award and 2015 Awards nomination for Best New Company plus, XBIZ 2015 Awards nominations for Gay Movie of the Year for "Forgive Me Father," and Gay Director of the Year for Nica Noelle.
Movies from Icon Male are unique to the gay marketplace and embody what fans have come to expect from Nica Noelle and Mile High Media – genuine and intimate exchanges between performers featuring forbidden sex, emotion and compelling storyline.
For Icon Male sales and distribution contact Wilma@mile-high-media.com.
For the latest news and BTS previews follow Icon Male on twitter: www.Twitter.com/IconMale
For production stills and content log on to Mile High Media's Press Access site: http://milehighonline.com/press/.  Media seeking to be qualified may email Dusty@DustyInk.com.