Walking through the door of a strip club in Illinois may shortly be a little more expensive.
A plan that would tax adult entertainment clubs that serve sell alcohol was approved by the Illinois Senate Public Health Committee Wednesday, the State Journal-Register reports. Revenues from the tax would benefit rape crisis centers around the state, based on a motion filed in Springfield in February.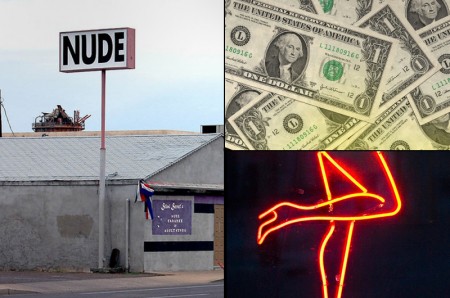 "If you're going to sell sex and alcohol, then bad things sometimes happen," Olympia Fields Democrat Toi Hutchinson, who filed the first motion to tax strip clubs, told the Quincy Journal, adding that she has nothing against strip clubs and topless bars. "I'm hopeful they'll work with me to take some of the stink off their name."
The Senate Committee approved a revised plan that gives club owners two options: either a $3 fee per customer, or a fixed amount based on revenue that would charge roughly $5,000, $15,000 or $25,000, according to CBS St. Louis.
The original motion would have levied a $5 per-customer tax, but club owners balked at the high figure, arguing that it could force smaller establishments out of business. Owners said the government shouldn't risk turning out their large staffs that include dancers, bartenders, valet attendants and bouncers at a time when job insecurity is high.
Chicago club lobbyist and former lawmaker Al Ronan told the Chicago Tribune that "$5 is an absolute industry killer," but that club owners were willing to work towards an "alternative plan."
The measure, Senate Bill 3348, will next be considered by the full state Senate.
A nearly identical tax imposed in Texas in 2007 cleared a test of constitutionality in August after club owners challenged it as a violation of the First Amendment. Attorney James Ho called the ruling "a big win for victims of sexual assault."
This isn't the first time a Illinois has considered a tax on adult products and services. Former House Speaker Lee Daniels, (R-Elmhurst) proposed a tax on pornographic magazines to raise money for schools in 1997, according to the Pantagraph. But the measure went nowhere.
Source: Huffington Post