Starlet in Best Shape of Her Life for Upcoming Brazzers Scenes
VENICE, CA – With her recent move to Hawaii, Kissa Sins has been finding ways to acclimate and one thing she has taken up is stand-up paddleboarding – and her SUP activities are going to benefit fans, too, because it's helping her get into the best shape of her life.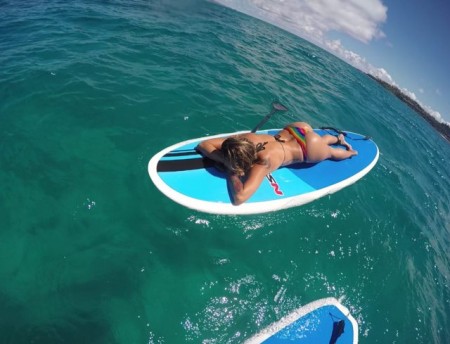 She had rented a board in Mexico before, but now that she's living in Hawaii she has bought her own board and is taking it seriously. It's not hurting that she says it's incredible exercise and is carving an even more superb figure on the already stunning starlet.
"SUPing helps my physique tremendously because it works my back and shoulders and it's a lot of cardio," Kissa says. "Plus I take my fins and goggles every time and we find a deserted beach to fuck on or we go snorkeling straight from the board – so that counts as exercise, too, doesn't it?"
It sure does. She has found a routine with boyfriend Johnny Sins that is certainly a model for anyone inside or outside the adult industry. Here is Kissa's secret formula:
1. Eat a good breakfast
2. Head out for hours on the ocean each day
3. Eat a delicious lunch
4. Go to the gym or do a workout on the beach
5. Have sex again
6. Work on SinsTV episodes and JohnnyAndKissa.com videos
7. Eat dinner and do yoga on the patio overlooking the ocean every night
"We are currently getting good enough to try yoga on the boards and fuck on the boards!" Kissa said. "We're experimenting on one board and then also combining our two boards together. This is going to open up a lot of crazy opportunities for videos for our sites! Plus, people tell me my ass looks better now that I'm paddling every day. What do you think?"
She is returning to the mainland this month and says between getting into the best shape of her life and getting a deep tan she is going to have the best look of her life when she shoots her new Brazzers videos.
A new video on JohnnyAndKissa.com is coming out this weekend. It's a fuck session with Bella Danger they had during XRCO weekend! And a new SinsTV episode also goes up this weekend of them leaving for Hawaii. SinsTV has been doing incredibly well and Kissa is very excited about the reaction.
Kissa and Johnny just updated their merchandise site, www.SinsMerch.com, with some sweet stuff, so give it a look for the latest in Sinswear like shirts, hats, bandanas and more.
Check out all of Kissa's scenes for Brazzers at http://www.brazzers.com/profile/view/id/2405/kissa-sins/. There is also plenty of hot content on http://johnnyandkissa.com/.
Enjoy the official Kissa and Johnny Sexual Bucket List and much more at http://sinningatlife.com. Kissa also has hoodies, fitness tanks and hats on www.sinsmerch.com.
She's on Tumblr (www.tumblr.com/kissasins), Instagram (@coyotelovesyou), Google+ (+kissasinslovesyou), Snapchat (kissasins) and more. For up-to-the-second updates, follow her on Twitter (@kissasins).
For everything Kissa go to http://risingstarpr.com/clients/kissa-sins/.