Anger at gang rape of student on public bus rages as demonstrations against sexual violence continue in Delhi.
Police in India have used baton charges, water cannons and teargas to disperse crowds of demonstrators calling for stronger measures to combat the wave of sexual violence towards women in the country.
The brutal gang rape of a 23-year-old in the capital, Delhi has provoked widespread anger, largely focused on the police, politicians and senior officials. The incident has dominated news bulletins all week. The victim, a physiotherapy student who was returning home with a friend from a film in the south of the capital last Sunday, is still in a critical condition. Six men have now been arrested and face life imprisonment if convicted of any role in the assault, which took place on a bus traveling on main roads in the capital over an hour.
Many protesters taking part in the almost entirely spontaneous demonstrations across the country have called for the death sentence to be imposed for rape. Others disagree. Dozens were injured in clashes with police on Saturday. Several metro stations in the capital were shut on Sunday to prevent demonstrators reaching key locations around parliament and the president's residency. However, a crowd of several hundred had gathered close to parliament. Scores of protesters have been detained or forcibly removed from sit-ins over the last 24 hours.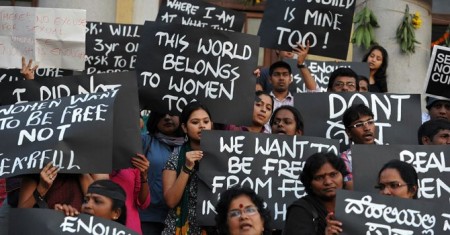 Police said that demonstrations would only be permitted at two locations in Delhi, both traditionally used for rallies. A number of fringe political groups appear to have joined the protests for the first time, to the dismay of some demonstrators.
"This is not about scoring political goals," said student Vijay Kakar, 24. "It is about justice and protection for our sisters."
Sonia Gandhi, tchair of the ruling Congress party-led coalition, met protesters outside her official residence on Sunday morning.
Local media reported that Gandhi assured the group that she was "with them" and that "justice would be delivered". Many demonstrators said they had been angered by reports that hundreds of men accused of sexual violence towards women have been allowed to run in Indian elections over the last five years. These include more than 30 charged by police with rape.
The figures were released on Thursday by the Association for Democratic Reforms, a respected thinktank, and were based on court records and electoral declarations filed by the candidates themselves. Although there has been much discussion of the failings of police in preventing rape, there has been less attention on the underlying reasons for the current wave of sexual violence against women in India.