Adult Star Will Sign Autographs for Fans at Booth #210, January 23 & 24!
LOS ANGELES (January 13, 2015) – James Deen Productions will host rising star Dahlia Sky at AVN Media's Adult Entertainment Expo (AEE) booth on January 23 and 24. Fans can stop by booth #210 to meet Sky in person.
The striking blonde will be signing autographs and posing for photos from 5 to 8 p.m. on Friday, January 23, and from 1 to 3:30 p.m. on Saturday, January 24. AEE is produced by AVN Media Network and held from January 21 to 24 at the The Joint at Hard Rock Hotel & Casino Las Vegas.
"I couldn't be more excited to be signing at the James Deen Productions booth! I'm stoked to reunite with my fans and also to meet my new ones. AEE is always a blast, and I'm sure this year will be no different," Sky said.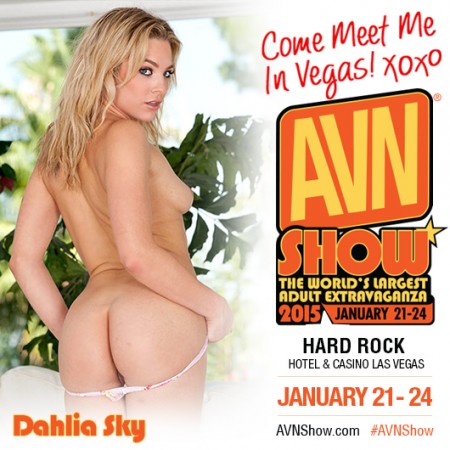 Sky is known for her work in two volumes of the acclaimed series "James Deen's 7 Sins" – "Lust" and "Greed" – as well as "James Deen's Sex Tapes: First Time Pornos." A popular performer since her arrival in the industry in 2011, she has been nominated more than a dozen times for her work, including five nominations at the 2015 AVN Awards.
The Adult Entertainment Expo (AEE) is the adult entertainment industry's biggest trade show, featuring more than 15,000 industry professionals, more than 500 adult stars, dozens of workshops and seminars and industry networking events.
Owned by prolific adult superstar James Deen, James Deen Productions creates some the most acclaimed adult films of recent years. Nominated for 15 awards, including Progressive Studio of the Year and Director of the Year at the 2015 XBIZ Awards, and 32 awards for the 2015 AVN Awards, including Director of the Year, James Deen Productions has grown into one of the most popular independent studios.
"Since Dahlia first entered the adult film industry, I have always been enamored with her," said Deen. "I am proud to have her star in my movies, and even prouder to have her sign at my booth. I think her presence will make the convention better every day."
This month, the company premiered its brand new website, JamesDeenProductions.com, a state-of-the-art web portal offering visitors a look at the newest and upcoming films. Featuring the hottest and most beautiful stars in adult entertainment, James Deen Productions offers high quality, high definition content.
The site features trailers, cover art, cast lists, and synopses from Deen's newest releases, such as "James Deen's 7 Sins," "I Came on James Deen's Face 2," and "James Deen's Sex Tapes Off Set Sex 2."
James Deen Productions was created to provide a platform for Deen's vision of respectful, safe, and fun entertainment. The studio is constantly evolving and expanding, along with its participants. This is accomplished through promoting the guiding principles of honesty, respect for boundaries, diversity, education, and acceptances. The motto James Deen Productions works to embody every day is "set the bar, then jump over it."
Retailers and distributors interested in pre-ordering James Deen Productions' titles may contact David Diamond at ddiamond@girlfriendsfilms.com.
About James Deen:
James Deen started performing in adult films at the age of 18. Originally, he was warned his skinny body type and boyish looks were not fit for porn, but Deen quickly silenced his critics. He is the youngest male to ever receive Performer of the Year honors at the AVN Awards, along with accomplishing this feat across the board at the XBIZ, XRCO, and every other adult awards show. Established as the top performer in the adult industry with over 4000 credits to his name, Deen has grown from the porn boy-next-door to a household name around the world. Deen has been noted as one of the top 100 Jews in Heeb magazine (2009) and featured on CNBC, ABC's "Nightline," Good Magazine, The Good Men Project, GQ Magazine, Rolling Stone, Glamour, Cosmopolitan, Forbes, E! Entertainment, Esquire, Playboy, TMZ, and many other media outlets. He has expanded his career to Hollywood by starring in "The Canyons," opposite Lindsay Lohan; he also produced "Cowboys & Engines," which features Malcolm McDowell. Deen's filmmaking prowess extends to his studio, James Deen Productions, which provides a platform for Deen's vision of respectful, safe, and fun entertainment. As his career continues to skyrocket, James Deen appreciates every ounce of the successes he has. When asked about this, he exclaimed, "Seriously – I am the luckiest boy alive." For more information, visit www.JamesDeenProductions.com, www.JamesDeenBlog.com, www.JamesDeen.com, www.JamesDeenStore.com, or www.Twitter.com/JamesDeen.
About AEE:
The AVN Adult Entertainment Expo is the industry's biggest trade show and the best place to meet the buyers and see the latest innovations. It will be held this year from January 21 to 24 at the The Joint at Hard Rock Hotel & Casino Las Vegas. From movie studios to pleasure products manufacturers, everyone you need to see to help your business grow and prosper is here. It features 15,000 industry professionals, 250 innovative brands, 30 workshops and seminars and 20 networking events. AEE is online at www.AdultEntertainmentExpo.com.