Jenna Jameson, the world's most famous adult entertainer and a New York Times Best Selling author for her memoir "How To Make Love Like a Porn Star," came to the FOX411 studio on Monday afternoon to promote her first novel "Sugar."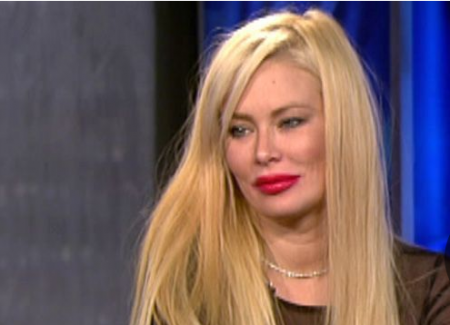 With three handlers in tow, she arrived about 20 minutes late to her scheduled 1 p.m. interview. She required assistance getting on the set. We asked if she was okay. Her rep said she was ready for her interview, just tired from flying in late the previous night, and being up late for an appearance on Bravo.
Jameson, 39, seemed disoriented at times, and she had a hard time answering some questions, including why women should read her debut novel.
"Right, I think that fiction is a thing that women really want to…they wanna feel…they wanna be able to like be on the airplane and read it. So yeah," she said. "This book is all based on truth. A lot of my truth. I made sure I didn't say anything exact but there's a lot of truth in there."
When asked if the adult entertainment industry has changed, Jameson answered: "It has changed. There's been a lot of girls now that are…I don't know. They're working. They're working hard but you know it's different for me. I became very famous without having to worry about making money."
We asked Jameson to weigh in on present day celebrity sex tape stars.
"Well, it makes me sad that they don't, that they're not exact and…what would the word be?" she said. "Cause I know that a lot of them are very…they did this on purpose. So, it makes me sad."
Jameson is the mother of five-year-old twins, for whom she is reportedly in a custody battle with her ex-husband, Tito Ortiz. We asked her any advice for working moms. "I mean, wow just being a good mom. You know, my thing is just be a good mom. Take care of your babies. I do."
Source