Get ready for the biggest blockbuster film of 2014. Damsels in Distress is the new movie from Jim Powers Presents that promises to break records moving off the shelf! Nicki Hunter, Jodi Taylor, Melody Jordan, Shay Lynn, and Maia Davis just returned from the AVN Expo in Las Vegas promoting Damsels in Distress where the reaction was monumental!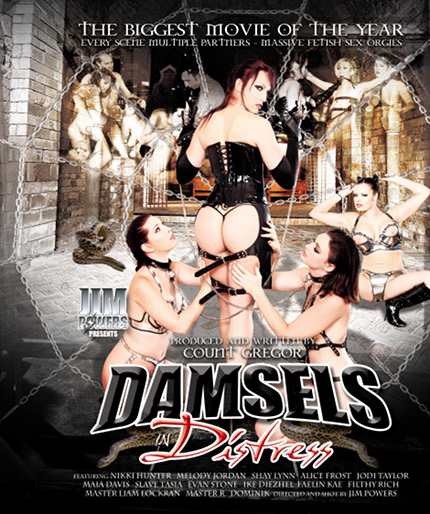 This huge production has over-the-top sex at every turn with a massive 17 person fetish orgy, elaborate dungeons, no holes barred sex, and extreme acts of anal and double penetration at every turn! Raw action so bent and twisted that porn aficionados will riot to get it off the shelves and prudes will demand it be banned!
See the NSFW trailer for a sample of this perverse debauchery.
The story is about an evil Dominatrix played by Nikki Hunter who sends her slaves out to kidnap men for her personal satisfaction. The men are kidnapped and tied down as sex slaves to be abused at her whim.
Nikki Hunter says, "Damsels in Distress is the best movie that I've made for Jim Powers to date! If you ever want to see fucking, licking, cumshots, me beating the shit out of some beautiful girls and boys and turned around and being fucked for it in every single hole, this is the one you want! There is a twist at the end, I'm just going to say that, but it turns into a huge orgy. I'd say that if you ever like to see group sex this is the movie for you! Damsels in Distress, go check it out! The release date is January 29th 2014."
Melody Jordan was ecstatic saying, "I enjoyed it so much because I got to work with Nikki Hunter and she got to Dom me so that was very hot! There's a lot of hot kinky sex — it was two days of just nastiness! It was SO much fun, and I LOVE it!"
Damsels in Distress has an elaborate storyline reminiscent of the Golden Age of porn when the story actually mattered. Couple that with nasty steaming hot sex and dark BDSM action and you have the perfect storm of a movie!
Jodi Taylor exclaimed, "My favorite part of the movie was kidnapping Evan and taking him into the room and putting the little chastity belt on him, that was really fun! Evan is hilarious so the whole scene is us trying not to laugh! There was the cast and the orgy scene had tons of people! I've worked with Melody before, Maia Davis, Alice Frost and all the guys before, so that was a fun movie. It's always fun when you see people you've worked with before and you already love! I've worked in a lot of movies Jim has shot. This was really fun!"
Maia Davis adds, "I was first contacted for Damsels about two weeks before we shot the movie. Jim knows I like bondage and it was awesome! I've worked with Melody Jordan and Jodi Taylor, but never with Shay Lynn or Nikki Hunter which I was excited about…"
Shay Lynn said, "I did my very first boy/girl scene for this movie! I wanted to save it for something special, and when I read the script this was it! The story is fabulous and I had so much fun doing it!"
You won't be hitting fast-forward while watching this film! This storyline will captivate you like the films from the glory days of porn when these massive fetish orgies are done with a true tongue-in-cheek flair. The close-ups are extreme and explicit!
Get Damsels in Distress starring Nikki Hunter, Shay Lynn, Melody Jordan, Jodi Taylor, Maia Davis, Alice Frost, Evan Stone, Ike Diesel, Filthy Rich, also with Master Liam Lockran, Slave Tasia Lockran, Chad Diamond, Faelin Kae, Dominik Kross, Slave T, and Master R. Damsels in Distress was written by Count Gregor, and directed by Jim Powers.
Damsels in Distress has a ship date of January 22, and streets January 29, 2014. To order Damsels in Distress, and any other titles from the Jim Powers Presents catalogue, please contact Danny Gorman at 818-280-3700 or danny@xxxjuicy.com. This title is hot and already setting new records. Get your orders in early!
Contact Jim Powers by email at jp@mrfilth.com and @JimPowersXXX on Twitter.