Spend Valentine's Weekend in North Carolina
Adult superstar Joanna Angel is set to heat up the East Coast for Valentine's Day with a one-night-only performance at Vivid Cabaret New York for its one-year anniversary party Wednesday, February 11th, then down to Jacksonville, North Carolina for two-nights at Tobie's Lounge, February 13th and 14th.
Angel will take over the Vivid-branded gentlemen's club for three sizzling performances (9pm, midnight & 2am), as she helps celebrate Vivid Cabaret's first year in NYC alongside over 100 Vivid Cabaret entertainers, with revelers enjoying giveaways and drink specials throughout the night to keep the party going.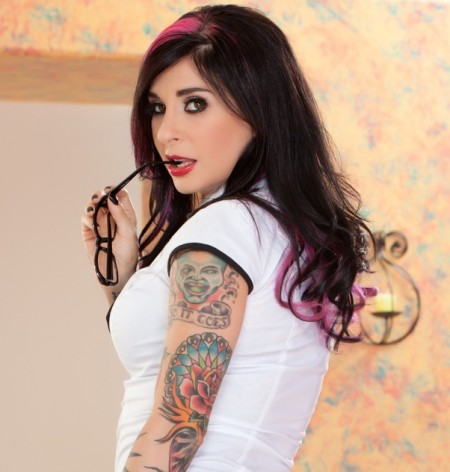 She will then travel down to North Carolina's coastal city of Jacksonville for Valentine's Day weekend, where she will headline Tobie's Lounge with two performances each night to get her audience in the mood during the sexiest holiday of the year.
"Whether you're coming with a loved one or coming alone – I look forward to spending Valentine's Day with you at the most romantic place on Earth- a strip club!", said Angel.
Vivid Cabaret New York is located at 61 West 37th Street and is home to the city's tallest stripper pole, a one-of-a-kind VIP Ultra Lounge, four stages and a heated Roof Deck, Smoking Lounge and Garden. Reservations are suggested: call (212) 391-2702 or visit www.vividcabaretny.com.
Tobie's Lounge is at 2004 Wilmington Highway, opens at noon, no cover till 7:00pm and drink specials till closing. For more information contact (910) 455-3836.
For more about Joanna Angel & BurningAngel, go to www.burningangel.com.
ABOUT JOANNA ANGEL AND BURNINGANGEL
Pushing the envelope, the BurningAngel Empire is a refreshingly unique web cocktail of sex, rock n' roll and pop culture. BurningAngel.com launched in 2002 with a few sets of photos and a band interview, conceived by two amateur college kids from Rutgers, Joanna Angel and Mitch Fontaine. Since its launch, it has exploded into a fierce indie company that has pioneered a new species of erotica known as "alt porn," with a network of websites and hundreds of DVDs to its credit.
The company is revered for popularizing alternative style girls, and prides itself on delivering hardcore adult content alongside band interviews, record reviews and a community with its own social networking. As both the star of many of BurningAngel's movies and the company's spokesperson and owner, Joanna Angel has stormed both mainstream and adult media. She's appeared on the cover of every major adult magazine (AVN, Club, Hustler, Picture Magazine, Adam Film World and Xtreme, to name a few) and has been featured in many tattoo magazines as well (some include Prick, Taboo, Inked and Savage). She has been featured on Fox News, Playboy TV, Fuse TV, G4 TV, KROQ Radio, as a regular on the Jason Ellis show on SIRIUS Radio, as a guest on the 2008 series premiere of TLC's LA Ink, and in a speaking role on Adult Swim's "Children's Hospital." She has also appeared in The New York Times, Newsweek, The Village Voice, The New York Press, Esquire UK, Details and Penthouse, among others. Heeb Magazine featured Joanna as its cover girl, naming her one of the Top 100 Up-and-Coming Jews in 2005, and The New York Post featured her as one of the Top 25 Sexiest New Yorkers.
She's also made her mark in the sex toy world, becoming a venerated Fleshlight Girl in 2013. The same year, she made further strides into the mainstream world with a speaking role in the indie drama Scrapper. BurningAngel has brought home several awards from all the major adult shows—from AVN to XBIZ, to XRCO to YNOT. Some of its accolades include Best Porn Star Website, Best Web Premiere and Best Sex Comedy. From a college dorm room to national television, BurningAngel has made a mark in entertainment, and it's only just beginning.
# # #
For more information please visit:  www.burningangel.com and www.JoannaAngel.com
Follow Joanna: @JoannaAngel