LOS ANGELES, Calif.  May 11, 2015 — Adult industry powerhouse Joanna Angel is back in Oregon to treat her fans to three dance performances as the headline act in Eugene and Portland May 14-16, with a quick stop at Vancouver, Washington's Taboo Video May 15.
On Thursday the 14th Angel will take over the Silver Dollar Club in West Eugene for one night only at 10:00pm, then Friday the 15th she will travel to Portland's Sunset Strip Gentlemen's Club as the club's star attraction for a 10pm show. Angel will return Saturday the 16th for a second performance at Sunset Strip.
"I am so excited to return to the North West!," says Angel. "The Sunset Strip is such a great club. It was a blast last time and it's my goal to make this trip even better. "
The tattooed punk rock porn princess isn't limiting the festivities to Oregon, and will also make a quick stop at Vancouver, Washington's Taboo Adult Video for an in-store appearance at 6:00pm for a two-hour meet and greet with fans and friends.
Angel, who recently launched specialty line of BDSM novelties in adult stores nationwide, will be available to say hi and take photos with fans. Her BurningAngel DVDs, clothing and T-shirts will be available for purchase during the star's dance performances.
For more information on Angel's appearances, contact The Silver Dollar Club, located at 2620 W. 10th Place in Eugene; Sunset Strip Gentlemen's Club is located at 10205 SW Park Way in Portland and Taboo Video is located at 4811 NE 94th Avenue in Vancouver.
For more information about Angel's Northwest tour itinerary, go to her BurningAngel.com site HERE.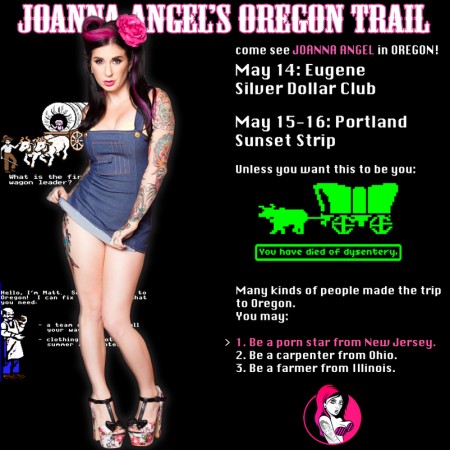 ABOUT JOANNA ANGEL AND BURNINGANGEL
Pushing the envelope, the BurningAngel Empire is a refreshingly unique web cocktail of sex, rock n' roll and pop culture. BurningAngel.com launched in 2002 with a few sets of photos and a band interview, conceived by two amateur college kids from Rutgers, Joanna Angel and Mitch Fontaine. Since its launch, it has exploded into a fierce indie company that has pioneered a new species of erotica known as "alt porn," with a network of websites and hundreds of DVDs to its credit.
The company is revered for popularizing alternative style girls, and prides itself on delivering hardcore adult content alongside band interviews, record reviews and a community with its own social networking. As both the star of many of BurningAngel's movies and the company's spokesperson and owner, Joanna Angel has stormed both mainstream and adult media. She's appeared on the cover of every major adult magazine (AVN, Club, Hustler, Picture Magazine, Adam Film World and Xtreme, to name a few) and has been featured in many tattoo magazines as well (some include Prick, Taboo, Inked and Savage). She has been featured on Fox News, Playboy TV, Fuse TV, G4 TV, KROQ Radio, as a regular on the Jason Ellis show on SIRIUS Radio, a guest on the 2008 series premiere of TLC's LA Ink, and in a speaking role on Adult Swim's "Children's Hospital."
Angel has also appeared in The New York Times, Newsweek, The Village Voice, The New York Press, Esquire UK, Details and Penthouse, among others. Heeb Magazine featured Joanna as its cover girl, naming her one of the Top 100 Up-and-Coming Jews in 2005, The New York Post featured her as one of the Top 25 Sexiest New Yorkers, and Playboy.com named Joanna Angel one of the 50 hottest adult stars on Instagram.
She's also made her mark in the sex toy world, becoming a venerated Fleshlight Girl in 2013 and creating a BDSM line of toys with Stockroom. The same year, she made further strides into the mainstream world with a speaking role in the indie drama Scrapper. BurningAngel has brought home several awards from all the major adult shows—from AVN to XBIZ, to XRCO to YNOT. Some of its accolades include Best Porn Star Website, Best Web Premiere and Best Sex Comedy. From a college dorm room to national television, BurningAngel has made a mark in entertainment, and it's only just beginning.