Las Vegas – As of today, Izzy Bainbridge has emerged in the adult entertainment world with an innovative way of creating art through her website, BizzyArt.com. Izzy's unique medium features body parts, famous body parts, none the less. Using adult entertainers as her muse, Izzy is turning kinks, fetishes and fantasies into art. Her work is spreading like wildfire, both in and out of the Adult Entertainment industry. As the list of entertainers grows, Izzy is sought after to create something one of a kind, focusing on each entertainer's specific genre and individual style.  In addition to working with adult entertainers, Izzy has also made private sessions available to private clientele seeking something unique and intimate of their own.
Two of Izzy's latest creations came to life with the help of two well-known performers, Kiki Daire and Leya Falcon. Kiki's creation, titled "Cooking Chaos", is a glow in the dark painting, using Kiki's breasts to create plump tomatoes, with her nipples serving as stems. Kiki's hands were used to create carrots, all meant to represent Kiki's love of cooking. This one of a kind piece is available for purchase on Izzy's website, and includes ten behind the scenes photos showing the creative process.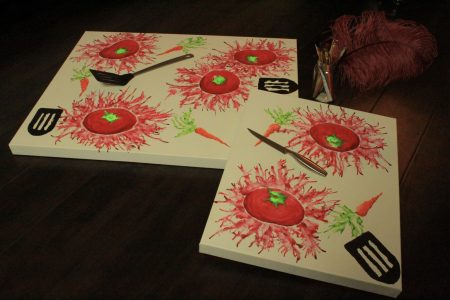 Leya's painting, "Harley Havoc", features something near to Leya's heart: the love/hate story of Harley and her Joker. Using red and blue paint, Leya's breasts created bleeding hearts, and her feet surround the Joker's face as symbolism of their rocky relationship. Leya's lips kiss the canvas throughout, making this a truly unique and special piece of art. As with Kiki's painting, the purchase of Leya's painting includes ten photos documenting the project from start to finish.
Kiki Daire said, "I'm thrilled to be a part of this unique project, done by a fascinating, beautiful woman."
Upcoming painting sessions include performers Val Dodds, Lolly Ink, Shavelle Love Makayla Cox, Sarah Jessie, Lynn Vega, Ophelia Rain, and Jenevieve Hexx.
Izzy Bainbridge is an artist based in Denver, CO, and travels all over to collaborate with a wide range of adult entertainers, is available to create her art at live expos, conduct private sessions, and make special appearances.
Follow Izzy on Twitter at https://twitter.com/izzybartndesign.