SAN FRANCISCO — Last year, Kink.com's Hell In the Armory experience launched a new genre: the erotic haunted house, generating outraged headlines nationally and internationally. This year, Kink.com returns with Hell In the Armory: Inferno, an even more controversial experience. Loosely based on Dante's vision of the nine circles of hell, Inferno is so extreme visitors must sign a waiver.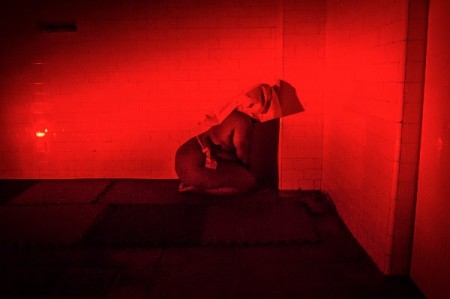 "Inferno goes beyond anything we've done before. It's an absolutely immersive experience that brings together two of our most primal emotions, fear and sex," says Audrey Joseph, Director of Events of The Armory. "Last year was our first venture into this world, and it proved ground-breaking. But this year, we've really pushed the boundaries psychologically. This is not something you bring kids to."
For Inferno, Kink.com and The Armory have partnered with New York's Blackout, the pioneers of the extreme haunted house experience. Beginning outside the renovated SF Armory on 14th Street, the tour winds through the dark and dank basement of the historic Armory building for an adults-only — and only in SF — experience.
Unlike traditional haunted houses, visitors to Inferno are expected to participate in the experience, interacting with the performers in order to complete the tour. The tour, which features graphic religious and sexual themes, takes full advantage of the hundred year old Armory's confined spaces and physical elements.
Hell in the Armory: Inferno runs now through October 31, 2015.  For tickets and other information, visit HellintheArmory.com
Hell in the Armory: Inferno
1800 Mission St., San Francisco
Runs Through
October 31, 2015
7:30PM-11:30PM
Wednesday
-Sundays
$35-40
Press coverage of previous Blackout haunted houses:
"Th most extreme theater event of the year" (New York Times)
"An absolute must for horror enthusiasts"  (Fangoria)
"One of the scariest haunted houses you'll ever enter" (Maxim)
Interviews, video, photos, press tours and assets available upon request.