Adult DVD Talk Posts Insightful Interview With Hot Young Starlet
VENICE, CA – After bursting onto the scene last year, the renamed and re-energized Kota Sky is proving to be a starlet with staying power and is also exposing the brain behind the beauty with a new column for XCritic and in a sizzling new interview with Adult DVD Talk.
Kota makes her debut as a columnist for XCritic, an exciting jump for the young superstar who has become incredibly popular on Twitter thanks to her openness. This new format would seem to lend itself well to someone who is prone to talking in more characters than Twitter allows.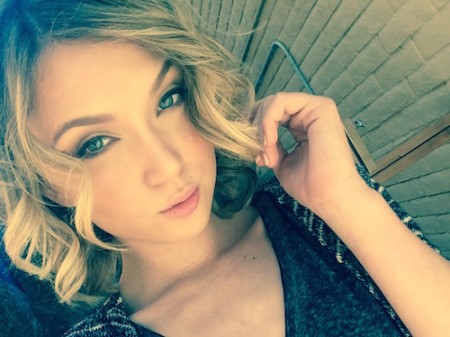 "As most of my fans who follow me on my Twitter, you guys all know I have a tendency to talk, talk and talk and NEVER shut up," Dakota says in her first column. "Some would say it's a negative thing, I would say it helps me stay humble, get to know my fans and you guys get to know me. I have recently also taken up blogging/and or writing for myself and no on else usually sees it… BUT I can say when I got contacted about having a blog on XCritic, lets just say I had no doubt I would dedicate my time out of my day even if I had to write blogs and blogs in advance, as well as have my 'get in the mood music' on and it may or may not be Taylor Swift but either way we all don't judge here…."
And so begins a trip into the head of Kota Sky, a special peek she will be allowing once a month on XCritic (and of course daily on Twitter).
"Kota Skye is one of the most dynamic and exciting performer we've seen in years," Chris Thorne at XCritic.com said. "She's got a lot to say and so we're extremely excited to have her on board contributing to XCritic."
Kota also unveiled many things about herself that most fans probably won't know in an interview with Captain Jack at Adult DVD Talk. She confirms that she is looking forward to doing a double anal scene this year – and much more.
"I feel like I would have a better time doing [double anal] than vag because as long as you're relaxed, your butthole can open," Kota tells the Captain. "I have a scene coming up that I can't say anything about that I haven't done before. I also have a blowbang coming out that I can't talk about. I'm also doing a scene [this month] that I don't think anyone would expect, so that's kind of exciting. It seems like I've held back on a lot of things and I'm realizing that it's kind of pointless to do that. This year, I'm going to go full force on everything."
Kota is nominated for New Starlet and Cream Dream in the 2015 XRCO Awards. Popporn has her nominated for Best New Starlet and Performer of the Yea (she is the only person nominated in both categories) and Pure, Vol. 1 (Airerose Entertainment), which features Kota on the cover as well as in a fantastic scene, is up for Best Teen Porn. Popporn is decided by fan voting, which can be done at http://www.popporn.com/popporn-awards/a-4.
Read Kota's column at http://www.xcritic.com/blogs/blog.php?blogID=4503. Read the ADT interview at http://interviews.adultdvdtalk.com/kota-sky/.
Kota handles her own bookings and can be reached at officialkotasky@gmail.com. Also, check her out on Dream Lover at http://www.dreamlover.com/KotaSky.
Kota's official twitter is @justkotasky.
For everything Kota Sky go to http://risingstarpr.com/news/?page_id=7972. For up-to-the-second updates, follow Kota on Twitter (@justkotasky).