It's the naked truth: the porn industry is making its way to Las Vegas.
How much will the Las Vegas economy reap in benefits as more adult film producers migrate to Sin City?
The adult entertainment industry rakes in $11 billion every year, and Nevada is already getting a piece of that pie.
The website kink.com supplied some behind-the-scenes images just before a fetish video was recorded in a studio near the Las Vegas Strip. Whips and chains were lined up as production crews readied their stage with adult performers.
"I love the weather out here. I love the change of scenery," said Paul Duncan Gryce, one of many adult performers moving to Las Vegas permanently for work.
"It's because right now this is where the work is. There is no state income tax, which is a big reason I think a big reason why it's pretty big here. Taxes definitely add up after a while," Gryce said.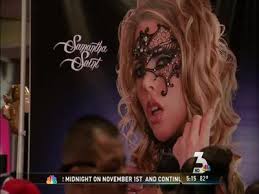 "My favorite thing about porn is the money; like everybody else, it's about a paycheck at the end of the day," Gryce said.
Porn money translates into huge bucks. The adult film industry is a $6 billion business in California. Porn production brings employment and sales to whatever town it sets up in.
"We don't know what share will transfer here," said Rob Lang, the director of Brookings Mountain West at UNLV. Lang specializes in analyzing economic development and urban growth.
"For us, it would be the impact of some of that industry located in Las Vegas valley and what it would pay in taxes," Lang said.
Sarah Jane Woodall, who works as a porn extra, is a Las Vegan already benefiting from adult films being shot here.
"I'm all about diversifying our economy as much as possible, and porn is a recession-proof industry that can be good for us," Woodall said.
Steven Hirsch, the founder and co-chairman of the adult entertainment company Vivid Entertainment, wants porn production to flourish in Clark County.
"I think Las Vegas is known as a city for adults, so it would make sense to ultimately move there if ultimately needed," Hirsch said.
Gryce already envisions Las Vegas being the spark that launches his career to stardom and financial success.
"I've been told there is more money in porn than there is in Hollywood," Gryce said.
Source