This is great.. Well not as great as when black penis expert Nick Boner no listed Lisa Ann, but close.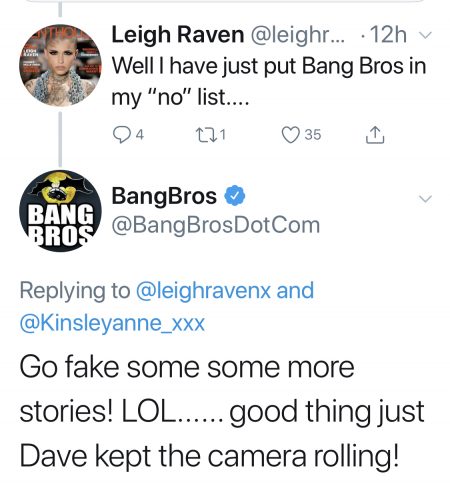 Talk about getting called out..
Leigh, who's basically being kept alive by John Stagliano, the chick who has a go fund me every quarter, the chick who used the fake assault claim to pay her cell bill, just no-listed one of the biggest companies in the game..
You think in 6 months if Bangbros came to her an said "Hey, we will pay you 5gs to let a couple of midgets cum on your face while they call you a fake feminist"  Think she would say no?  And if she did, they would then say "how about we throw in ANOTHER trip to Ole Mexico for you and your suitcase pimp Nikki"  She'd take that offer it faster then you can say "Where are the midgets"
And fucking kudos to the guy, or girl, or cis male, or binary optional person running that twitter account for having the fucking balls to call this chick out for her bullshit..
LOL Joking, we know a cool dude was behind that tweet, not everyone is Evil Angel