Los Angeles – The dynamic duo behind LeWood Productions, Francesca Le and Mark Wood, loves showcasing fresh new talent in their wild productions. Their upcoming release from Evil Angel, "Anal Fabulous", will be available on DVD and VOD September 1st.
Each of the four intense anal scenes will start being released on EvilAngel.com later this week, and the trailer on EvilAngelVideo.com will give fans a taste of the anal hunger each young starlet has. The DVD will be available for sale at https://www.evilangelvideo.com/video/6794/anal-fabulous.
With Francesca Le behind the camera, Mark Wood takes each starlet on an anal joyride, leaving them begging for more. April Olsen's scene opens the DVD, followed by Andi Rose, Rory Knox, and closing with Rebel Rhyder, who enjoys a nasty foursome with Mark, John Strong, and Michael Stefano.
April commented, "I love being invited to Mark and Francesca's, I know I'll always leave with a smile on my face! I especially appreciate their dynamic on set—wife director/husband performer with me caught somewhere in the middle, it's seriously hot! You can see my excitement throughout the scene. This duo can really make a porno, I want to be like them when I grow up."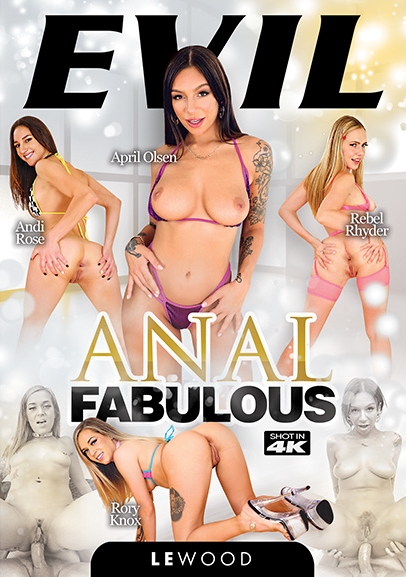 Rebel, who gets stretched to her limits with double vaginal penetration, double anal penetration, and a swallow finish was entranced while on set. She commented, "Shooting my scene for LeWood's 'Anal Fabulous' was an incredible experience – one I'll never forget. I was on set with a room full of legends! Mark Wood, Michael Stefano, and John Strong together made for a super hot sex scene – add in Francesca Le directing and it was just magical!"
Michael Stefano added, "It was with great pleasure to have worked with Rebel Rhyder and my old school good friends Mark Wood and John Strong. It's been a very long time since the three of us were in a scene together. And what better way to do a comeback with the super nasty and cock hungry Rebel. Rebel has no limits and no amount of cock is enough for her. She is one of the best female performers in the business and this scene is an absolute nomination/win."
"Shooting this movie was so much fun," Francesca Le commented. "I can't say enough about April, Andi, Rory, and Rebel. Each and every one of these beautiful girls delivered an amazing performance. I noticed their great personalities from the start, and you can see them shine in their scenes. They all truly made me remember why I am still doing what I do – shooting beautiful girls that truly enjoy anal sex. Thank you for helping LeWood create another anal masterpiece!"
Mark Wood exclaimed, "I really wanted to do a scene with all of us because I knew it would probably be the last time we would be working together with Michael and John. We started in the business at the same time and between the three of us, we probably did close to 8,000 gonzo movies combined. There is no better way to complete the circle than with one more award worthy hardcore, gonzo scene."
LeWood's "Anal Fabulous" stars four young starlets who are taking the industry by storm, and who won't settle for vanilla scenes. The DVD will begin shipping immediately and will be available on DVD and VOD September 1st.
Follow us on Twitter, @XXXStarPR and check out our website, xxxstarpr.com. For interviews or media inquiries, contact xxxstarpr@gmail.com.