Paul Baxendale-Walker plans to launch two Loaded TV channels and increase magazine's 'girls and glamor' content
It was the undisputed king of the lads' magazine market in the 1990s before it saw a painful decline. Now Loaded is to get an x-rated injection after being bought by a multimillionaire businessman, talk show host and tax adviser who occasionally directs and stars in his own pornographic films.
Paul Baxendale-Walker, who recently made headlines when it emerged he had invented the tax scheme that triggered the inquiry into Rangers football club's finances, has acquired the monthly men's magazine from administrators.
He intends to use the brand to marry his adult businesses with his mainstream media interests in a strategy that includes the launch of two Loaded TV channels and more Page 3-style content for the magazine.
His plan marks the latest revamp for a title that has struggled for the past 10 years, as its stock in trade of titillating images became freely available online, from the mainstream Mail Online to adult sites. Officially audited figures show that in 2000 Loaded had a circulation of 350,000. Current sales stand at a tenth of that and are still falling at an alarming rate.
Baxendale-Walker has bought Loaded from Cooper Young, the administrators appointed to handle the sale of the magazine after parent company Vitality Publishing ran up a bill of £1m to creditors, through his company MPRO.
"There are very good synergies between Loaded, the brand and assets and the multimedia companies that I already own," Baxendale-Walker said in a telephone interview in which he introduced himself as Paul Chaplin, the pseudonym he occasionally uses, including for a short-lived TV chat show he hosted. "Loaded is a lifestyle magazine. I guess I live the Loaded lifestyle. Girls, cars, money, helicopters and fun, fun, fun. Although I don't have a particular football team I follow."
He hopes to launch a mainstream Loaded TV channel, which he says will be "like 1970s ITV on a Saturday night". A second, overtly adult channel, Loaded Babes TV, is also envisaged.
Baxendale-Walker believes he can make a better go of a magazine spinoff channel than forerunners such as Nuts TV, which was launched by the former Loaded owner IPC Media in 2007 and was taken off-air after two years. Programming for Loaded TV will include a comedy sketch show in the vein of Benny Hill or Kenny Everett.
Oxford-educated Baxendale-Walker, who was struck off as a solicitor in 2007, has a variety of business interests including a tax consultancy and a soon-to-launch gluten- and lactose-free restaurant called The Treehouse, complete with an "electronic crèche" for children. He declined to talk about it. Companies House records also show that he funds movie, TV and music ventures, including financing Peter, a film about the Yorkshire Ripper, Peter Sutcliffe.
He also owns Bluebird Productions, which makes hundreds of X-rated movies, a number of which he directs and even occasionally stars in. "I make adult films, some people use the word porn. I don't mind – the content is what it is."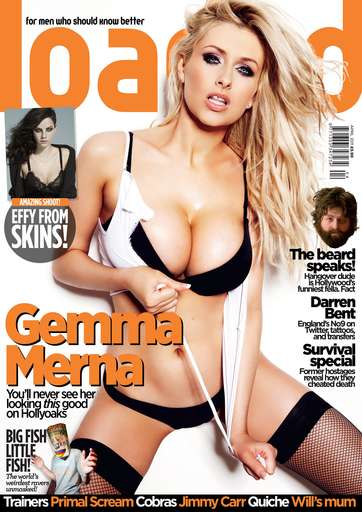 He recently appeared as the character Jo-Kerr in a blue spoof of the Batman franchise called Katwoman, and his latest book – The Law & Taxation of Remuneration Trusts – is promoted with a YouTube video that goads Her Majesty's Revenue and Customs and ends with a glamour model asking for tax advice.
Baxendale-Walker groups his adult interests under the umbrella of Blue Media Group, which includes a top-shelf magazine he edits. "The general principle is very much that we want to build the internet side of the business. If you come to the Bluebird film website there is lots to buy, hundreds of films of girls doing naughty things that you can buy. There are lots of links between the adult side of the business and Loaded as a shop window. It is like a guy who grows oranges who buys a greengrocer's in the high street. Vertical integration."
He is upbeat about the prospects of Loaded, which he maintains is profitable. "It is a series of misfortunes that brought it into administration, an accident," he says. "It is profitable, it is viable. Bluebird's assets and experience are at the sharp end of the market, if you will. Injecting it into Loaded will put it in the stratosphere but I will keep the essence of it – I have an affinity for the Loaded DNA."
He says he is still in discussions with management over the editorial direction of the title, which under the terms of the sale will continue to employ all 16 staff, but says it will stay "midshelf". "There will be a much higher proportion of girl and glamour content," he said. "What proportion is a matter of detail."
Source: Guardian